Event Tickets WooCommerce for Calendarize it!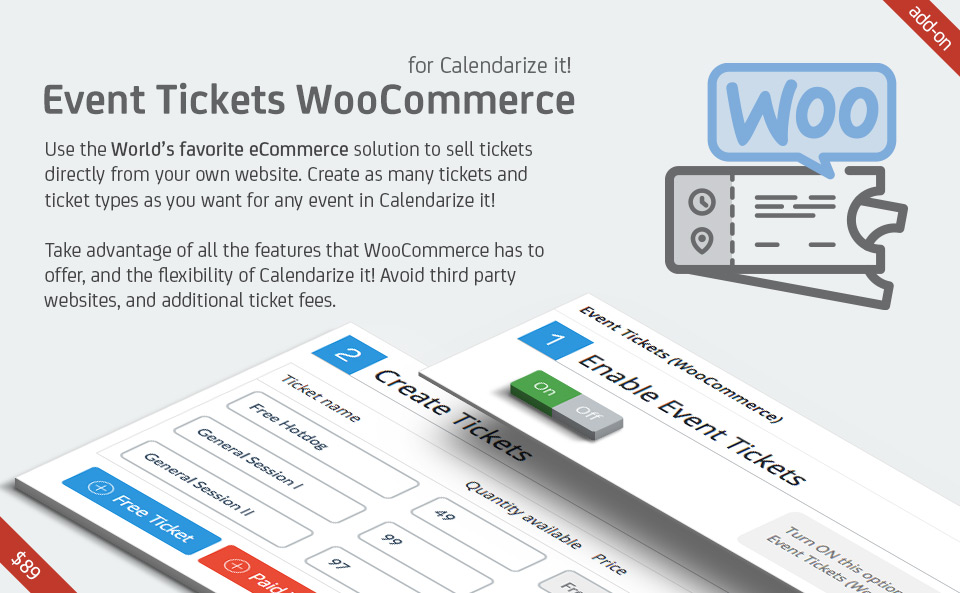 Chances are you are already using WooCommerce on your WordPress powered website to sell products. WooCommerce is now the most popular eCommerce platform on the web (source: Builtwith), and we are happy to be able to offer you the opportunity to sell tickets directly from your own website with Calendarize it! and WooCommerce.
Event Tickets WooCommerce for Calendarize it! allow you to create as many tickets and ticket types as you want for any event in Calendarize it!, and your visitors will be able to purchase tickets without leaving your website.
Take advantage of all the features that WooCommerce has to offer, and the flexibility of Calendarize it! Avoid third party websites, and additional ticket fees.
Check out some of the main features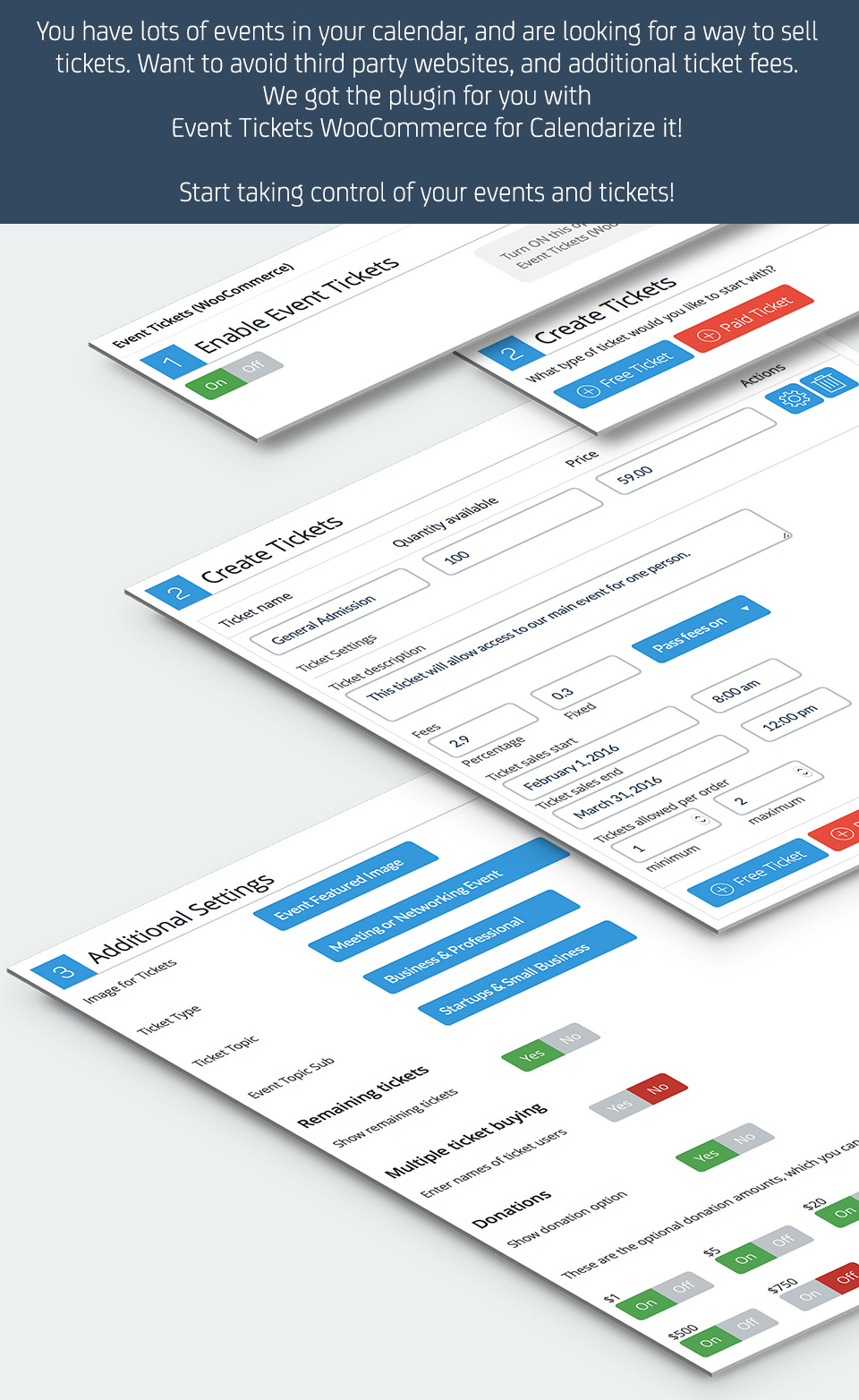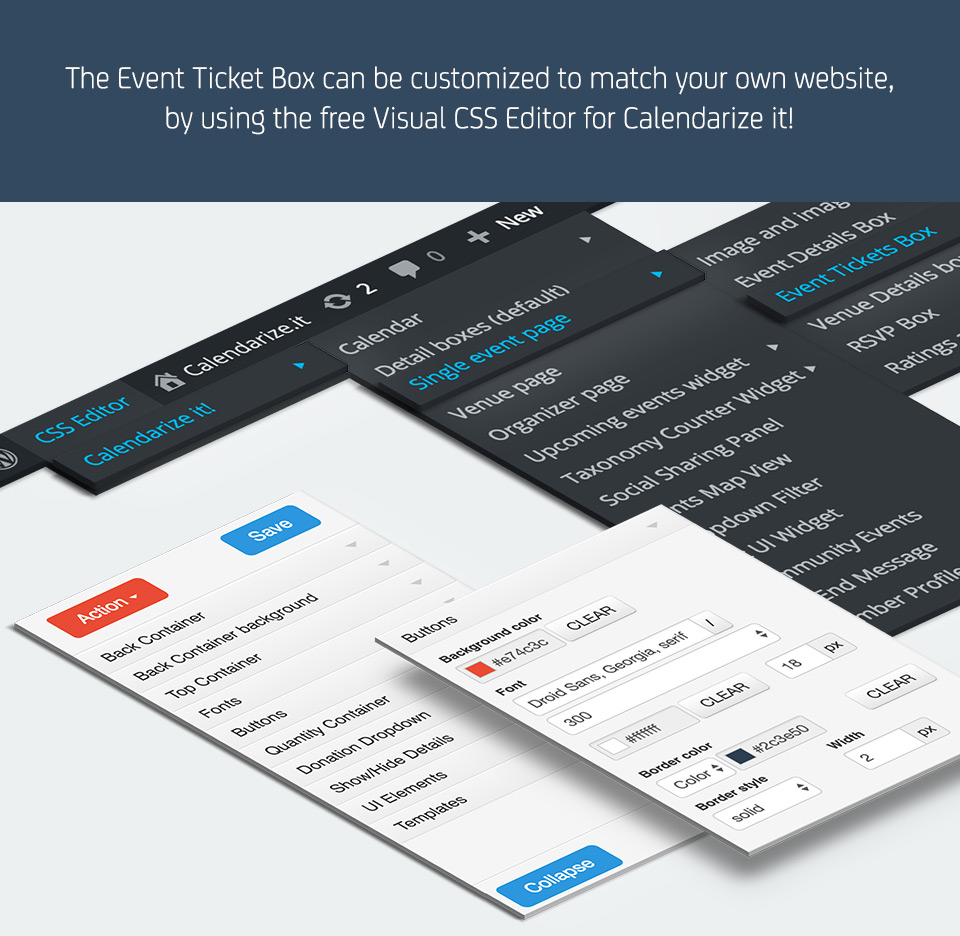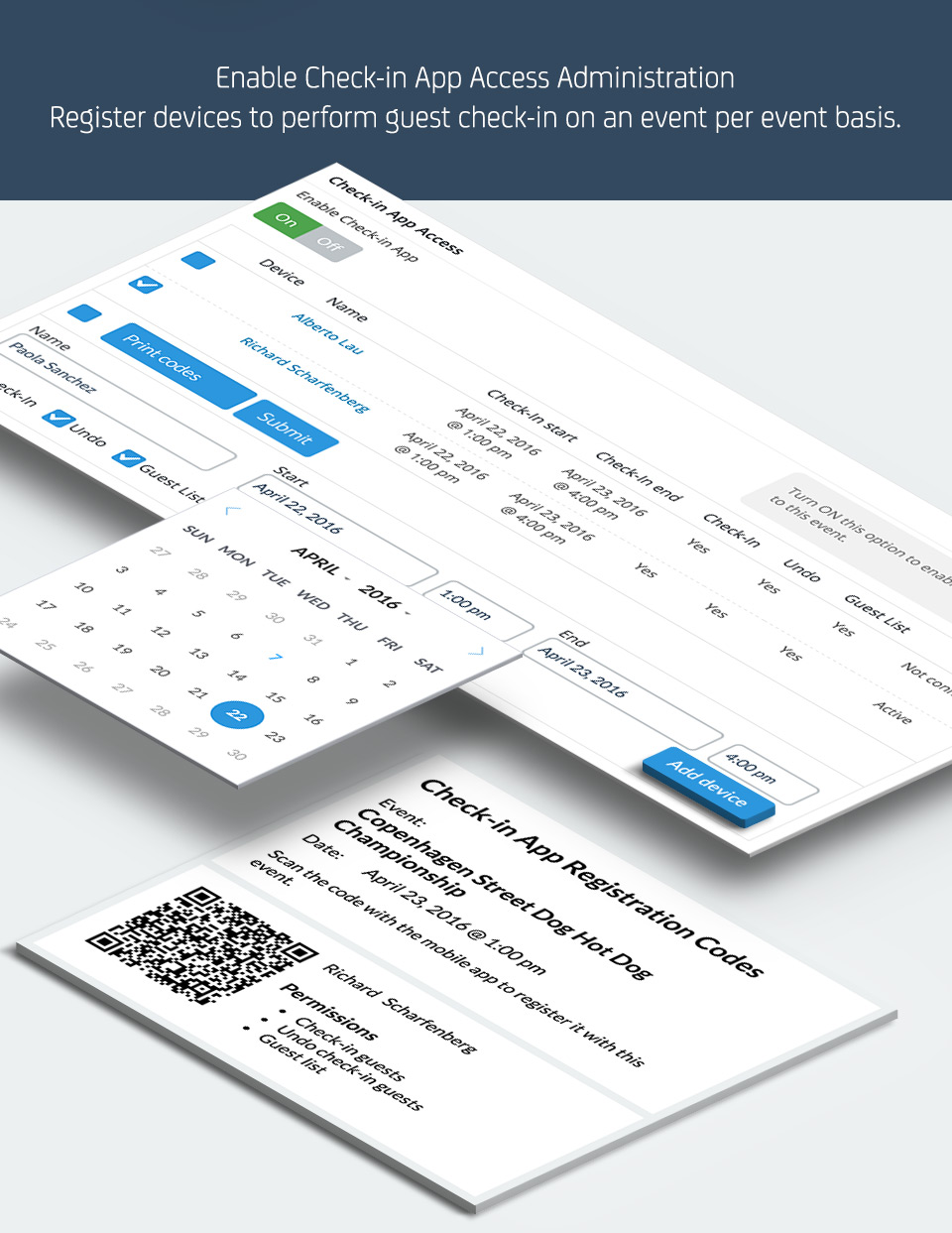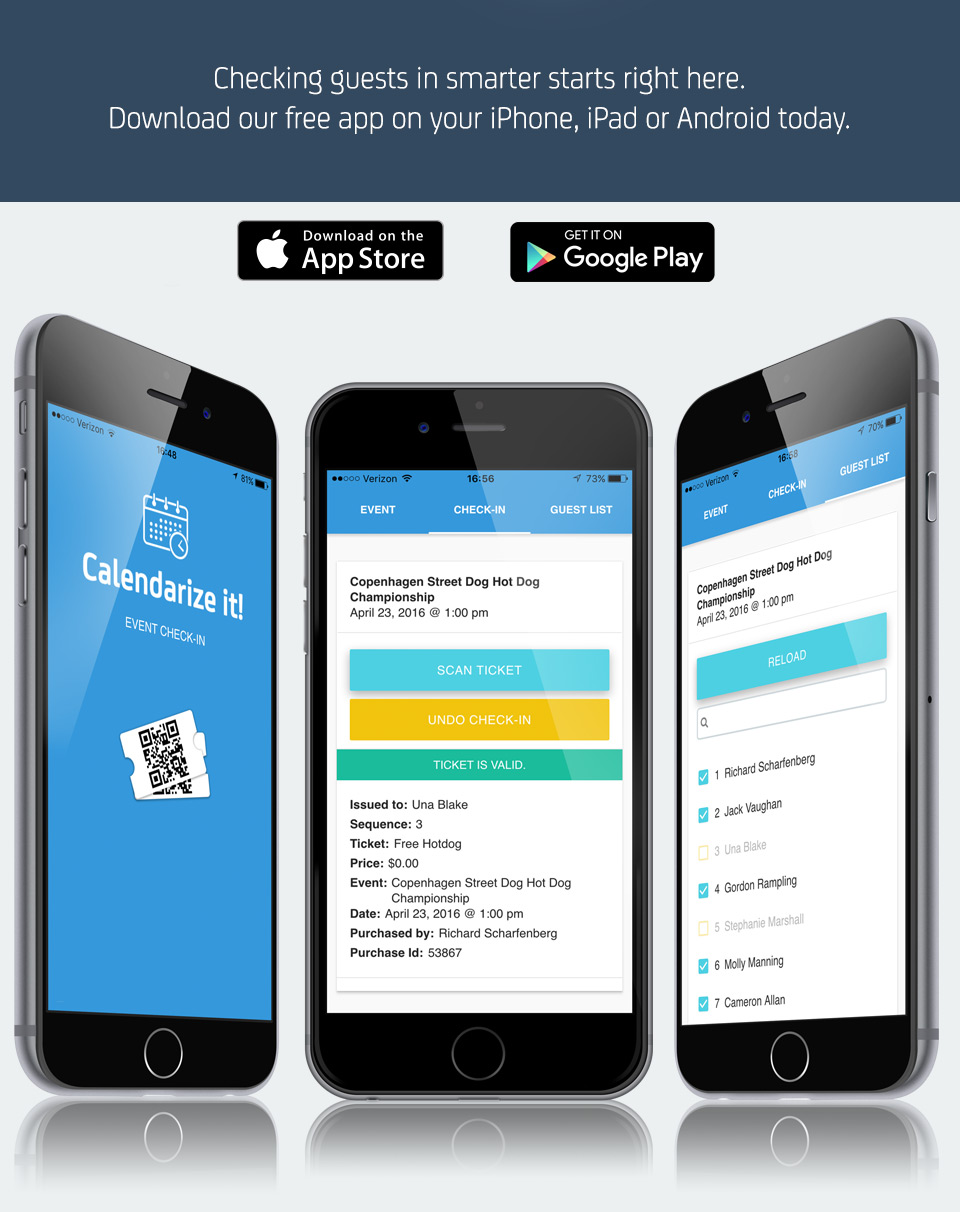 Please notice that the Android App is temporarily unavailable.
How to download free add-ons and purchase premium add-ons?
Enter your License Key in the Options Panel of Calendarize it! and get access to the Downloads section where you can download free add-ons and purchase premium add-ons.
The Item Purchase Code can be found in your License Certificate file. Go to Codecanyon and click on My Account at the top, then click the Downloads tab, and then click the Download button and choose the License Certificate & Purchase Code link. You will find the code in the text file and it will look something like this:
Item Purchase Code: bek72585-d6a6-4724-c8c4-9d32f85734g3
When you have entered your license key click on Downloads in the menu and you will now be able to download the free add-ons as well as purchase the premium add-ons.
Change log
Version 1.2.2.78541 – April 17, 2017
 Bug Fixed: Missing Ajax hook when users are not logged in.
Version 1.2.178408 – April 7, 2017
Update: Optimized the process of adding tickets to cart (performance improvement)
New Feature: If ticket have no fees, hide the Fee column
Version 1.2.0.77631 – March 15, 2017
Update: Changed the Visual Composer support hook for Calendarize it! (add-ons)
New Feature: Added support for changing labels easily
Version 1.1.9.75674 – December 12, 2016
Bug Fixed: Tickets were issued when buying other products through WooCommerce
Version: 1.1.8.75492 – December 4, 2016
Bug Fixed: The Check-in App Access meta box was showing even though it was turned OFF in the Events Tickets > WooCommerce > Event Check-in App section causing an admin-ajax.php error when trying to add new devices.
Version 1.1.7.75465 – December 1, 2016
Bug Fixed: QR Code in emailed tickets was not valid
Update: Updated some translatable strings with text domain
Version 1.1.6.75173 – November 11, 2016
Bug Fixed: Cropping of tickets when printing multiple tickets
Bug Fixed: When using a different Custom Post Type than the default Events and adding tickets the custom post type was not showing in the report summary page
Bug Fixed: The Date/Time picker was causing issues with the Enable Check-in App Interface. When setting a time and date for allowed Check-in it was reset to current date and time.
Version 1.1.5.74709 – October 23, 2016
New Feature: Added support for automatic content for the [rhc_woo_tickets] shortcode in Custom Post Types.
Version 1.1.4.73982 – October 3, 2016
Bug Fixed: when using slash or apostrophe character in Ticket name or Ticket description it outputs backslashes in the frontend.
Version 1.1.3.73969 – September 29, 2016
Update: Improved Ajax responses
Version 1.1.2.73858 – September 26, 2016
Bug Fixed: Number of checked-in Tickets was not counted correctly
Bug Fixed: Number of available Tickets was not counted correctly
Update: CSS adjustment for Tickets Topics and Ticket Types in wp-admin
Version 1.1.1.73661 – September 15, 2016
Bug Fixed: Ticket order in Event Ticket Box in Event Details Page is not following the order of the tickets in wp-admin.
Version 1.1.0.73446 – September 2, 2016
Bug Fixed: Some translation strings were broken
Bug Fixed: Redirect after purchase was broken
Update: Ticket Check-in CSS fix
Version 1.0.9.73349 – August 30, 2016
Update: Code optimization for emailing tickets to customers
New Feature: Email tickets to individual ticket holders
Bug Fixed: Only 5 ticket types would show up in wp-admin even though more was created
Version 1.0.8.73038 – August 17, 2016
New Feature: Added feature to clean up tickets which orders were permanently deleted from WooCommerce (Troubleshooting tab)
Update: Added the Event Name to the subject of the email send to customer that placed order
Bug Fixed: Numbers in Dashboard Widget were broken
Bug Fixed: Ticket Status box did not take the color of the event
Bug Fixed: Event Date and Time was not shown correctly in cart at checkout
Version 1.0.7.72559 – August 8, 2016
New Feature: Added support for collecting Email and Phone number for ticket holders
Update: Added a upgrader class (necessary function for updating database tables to support new features)
Update: Improved Ticket Summary page (showing all attendees for each order). Added support for exporting Email and Phone no. of tickets holders.
Bug Fixed: After recent update for WooCommerce the Free tickets were not added to the cart.
Version 1.0.6.72128 – July 20, 2016
Bug Fixed: When editing events the Date and Time format changes from when adding the event.
Version 1.0.5.72062 – July 17, 2016
Bug Fixed: When ticket price was set to over 1,000 the price was displayed as 1,00.
Version 1.0.4.71077 – June 15, 2016
New Feature: Added support for manual input of time. Supports WordPress time settings
Version 1.0.3.70853 – June 6, 2016
Bug Fixed: Updated path to /languages folder (get_relative_path prefixed with rhc). Translating .po file didn't work because of broken path to language folder
Version 1.0.2.70437 – May 26, 2016
Fixed Bug: Problem with Date picker when using Spanish, Portuguese date format j \d\e F \d\e Y.
Fixed Bug: Problem with Time picker when using French time format G \h i \m\i\n or German time format G:i \U\h\r
Update: Prevent users from being able to type Date and Time manually. Can only be picked using the Date and Time picker. This will prevent the Date and Time picker from crashing when users custom settings for WordPress Date and Time formats.
Note: Requires latest version of Calendarize it! 4.2.1
Version 1.0.1.70248 – May 20, 2016
Bug Fixed: Added missing rhcwct-en_US.po file for translation in the /language folder of the add-on.
New Feature: Added support for enabling the Event Tickets (WooCommerce) Metabox and the Check-in App Access Metabox for other Custom Post Types (requires latest version of Calendarize it! 4.2)
Version 1.0.0.70120 – May 13, 2016