Eventbrite Tickets for Calendarize it!
You have lots of events in your calendar, and now you are looking for a way to sell tickets to your events. Look no further, all you need is the new add-on Eventbrite Tickets for Calendarize it! This add-on utilizes the power of Calendarize it! and the proficiency of Eventbrite.com to handle all your ticket needs.
With Eventbrite Tickets you can easily create tickets from within your WordPress site, using the familiar interface from Eventbrite.com. Simply enable Eventbrite and choose between three different ticket types, free tickets, paid tickets and donations. Then enter the rest of the ticket details. Events and Tickets are automatically synchronized with your account on Eventbrite.com.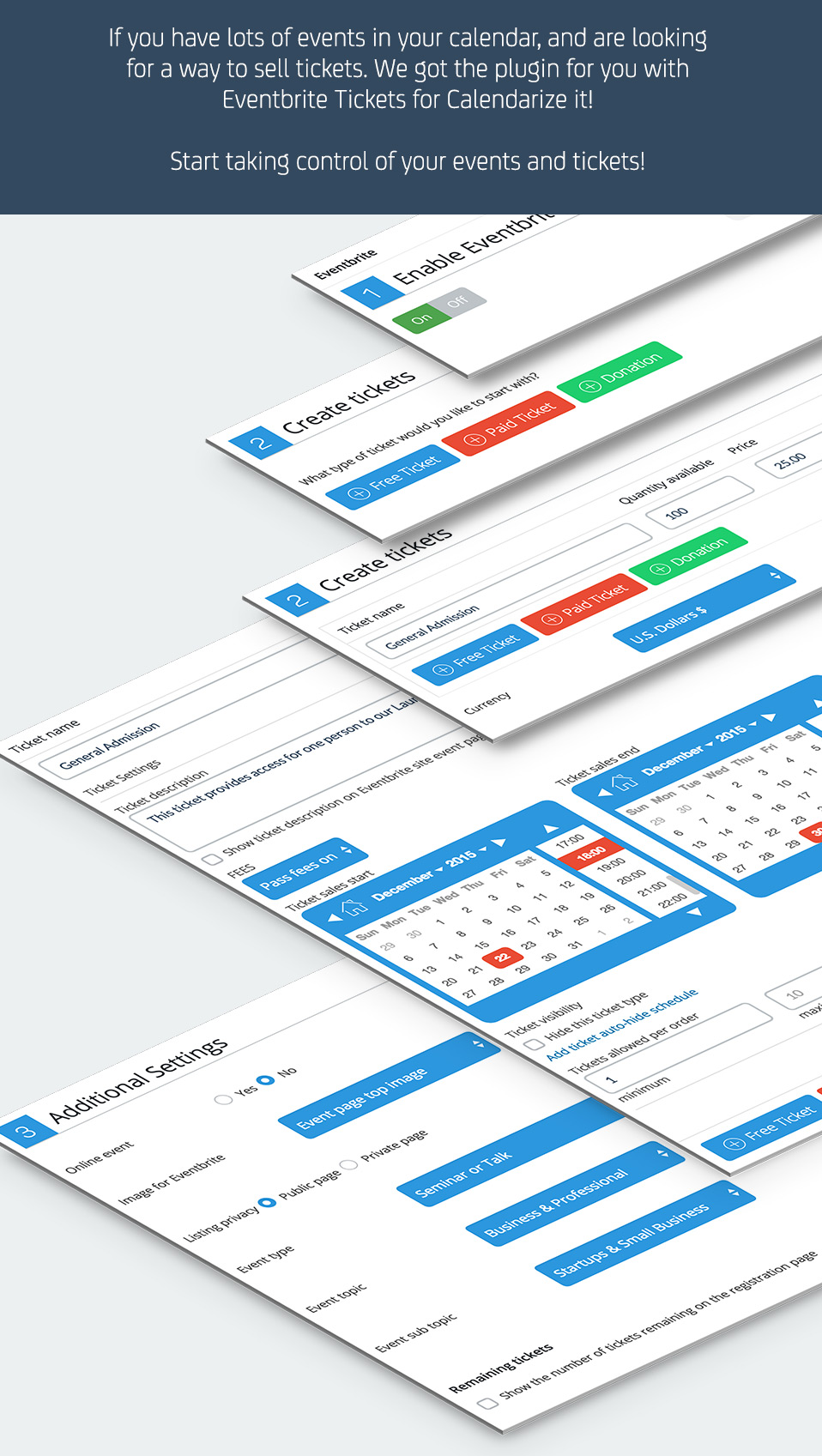 Visitors on your website will see Eventbrite or Buy Tickets buttons, which they can click to be redirected to Eventbrite.com and purchase tickets. You also have the option to insert a ticket form showing details like ticket types, remaining number of tickets, when the sale ends, price and any fees. The visitor can choose quantity and click Order Now, and get redirected to Eventbrite.com to finalize the purchase.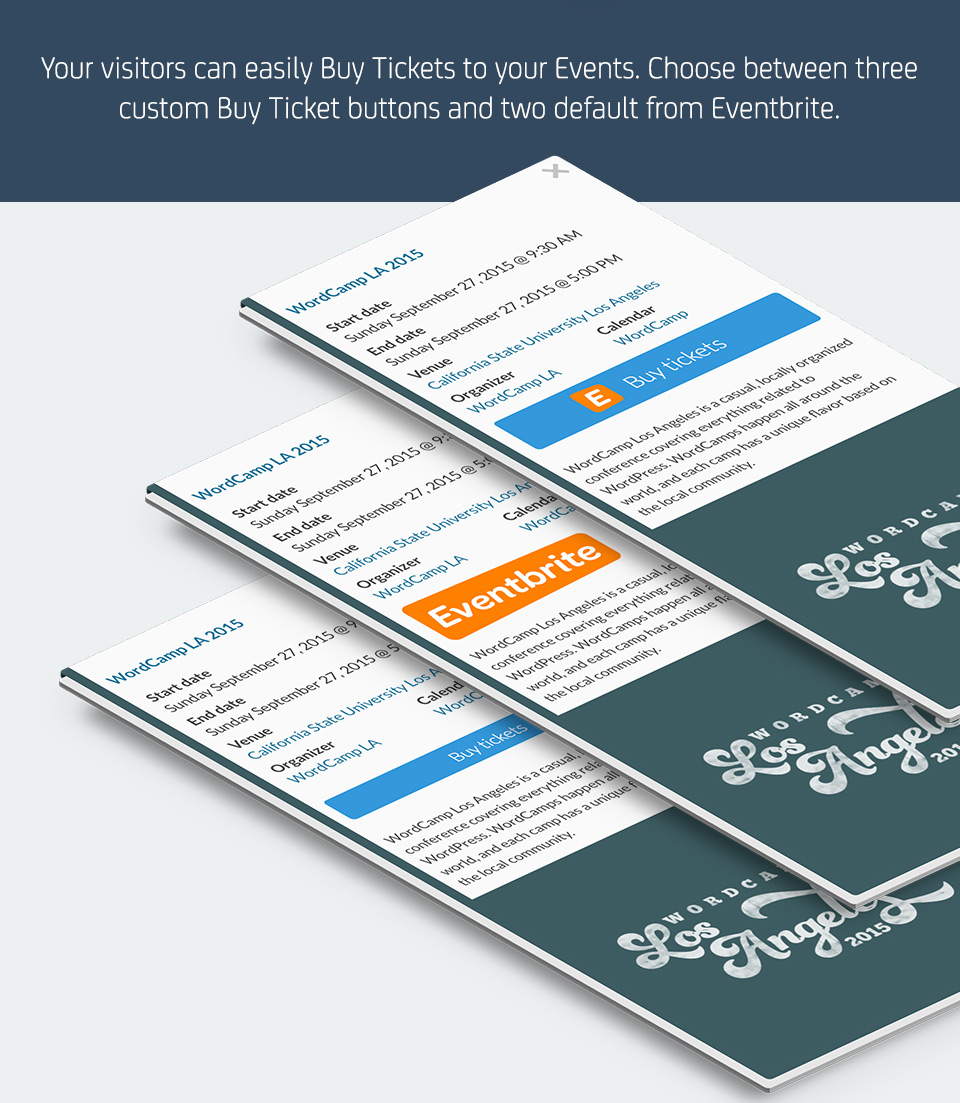 You can also import Events and Tickets directly from Eventbrite.com simply by entering the event ID. Please notice that currently importing recurring events from Eventbrite.com is not supported, due to limiations in the Eventbrite API.
Remember you will need a free Eventbrite account to use the add-on with Calendarize it!
Below you can see screenshots from the add-on interface, which shows how beautifully it integrates with Calendarize it! and WordPress. If you have any questions or comments about the add-on we would love to hear from you. Click the Help button in the lower left hand corner of your screen or visit our Help Center.
Screenshots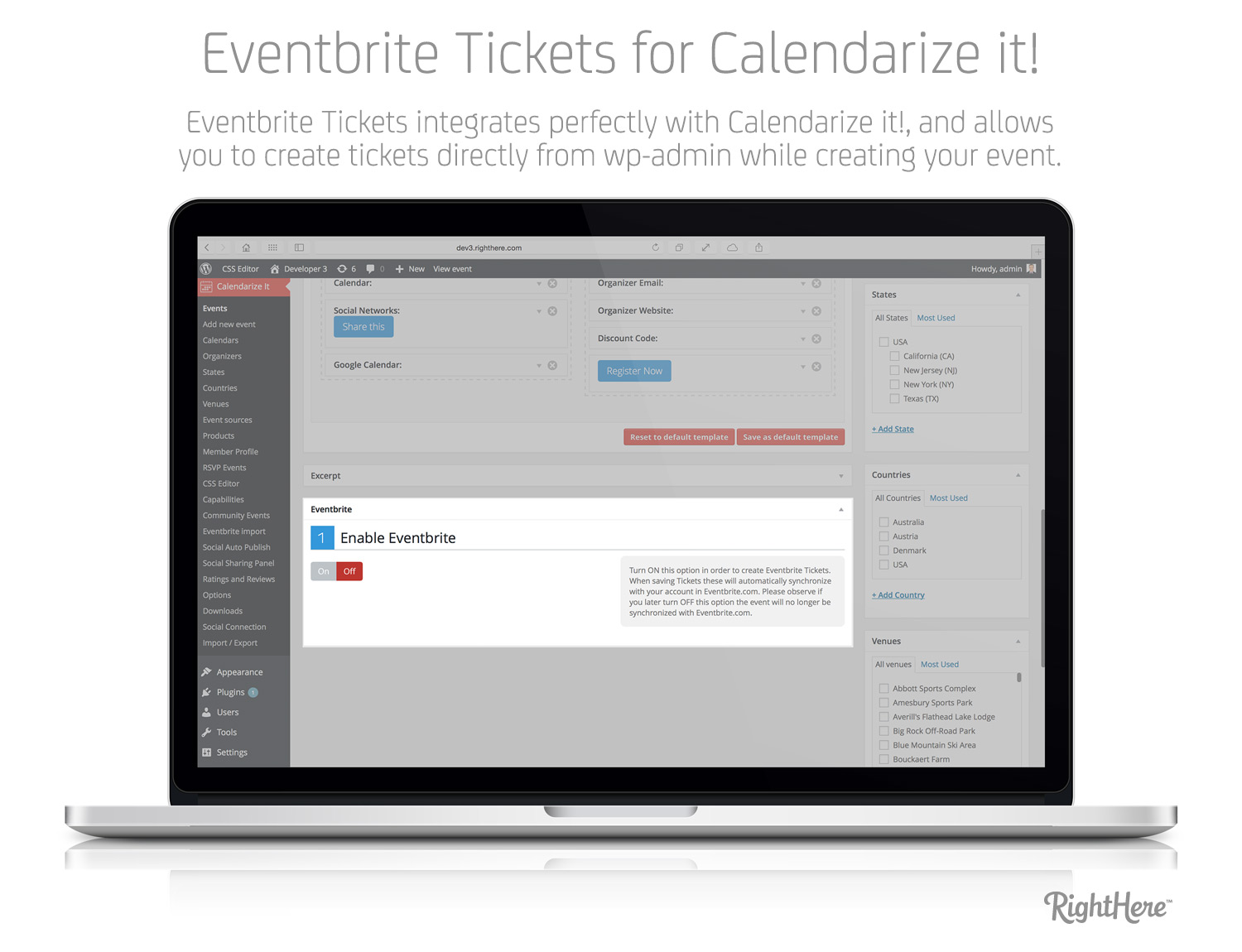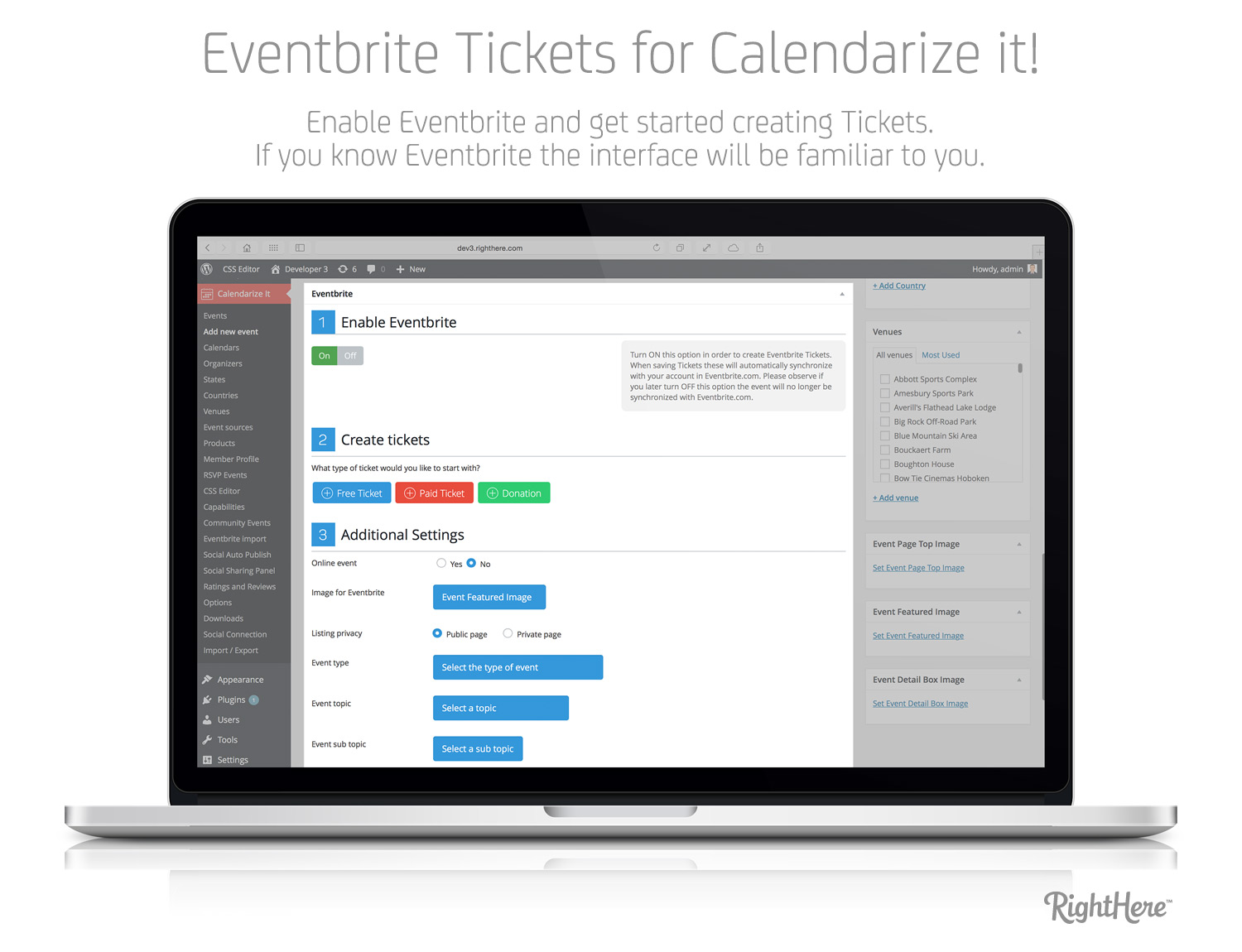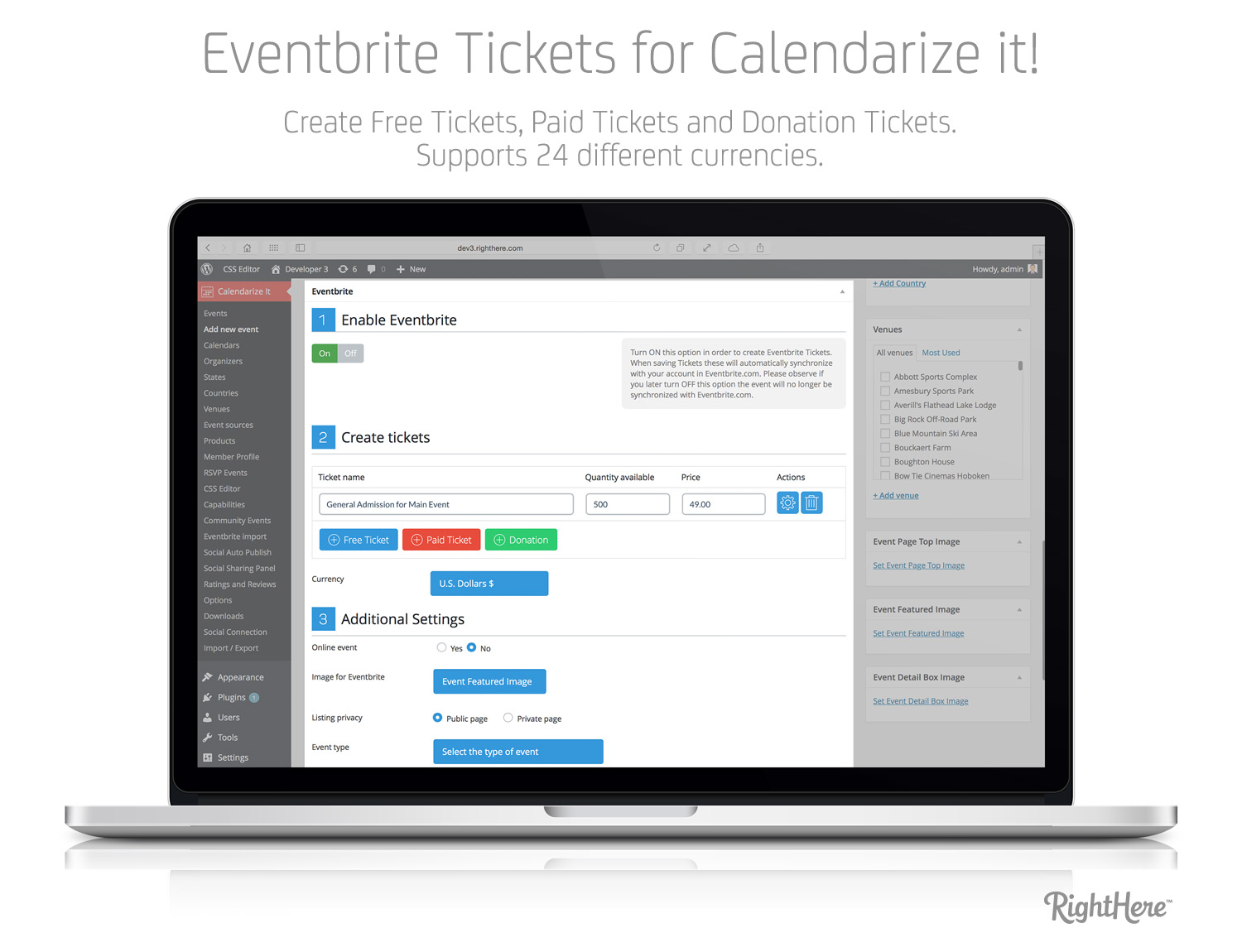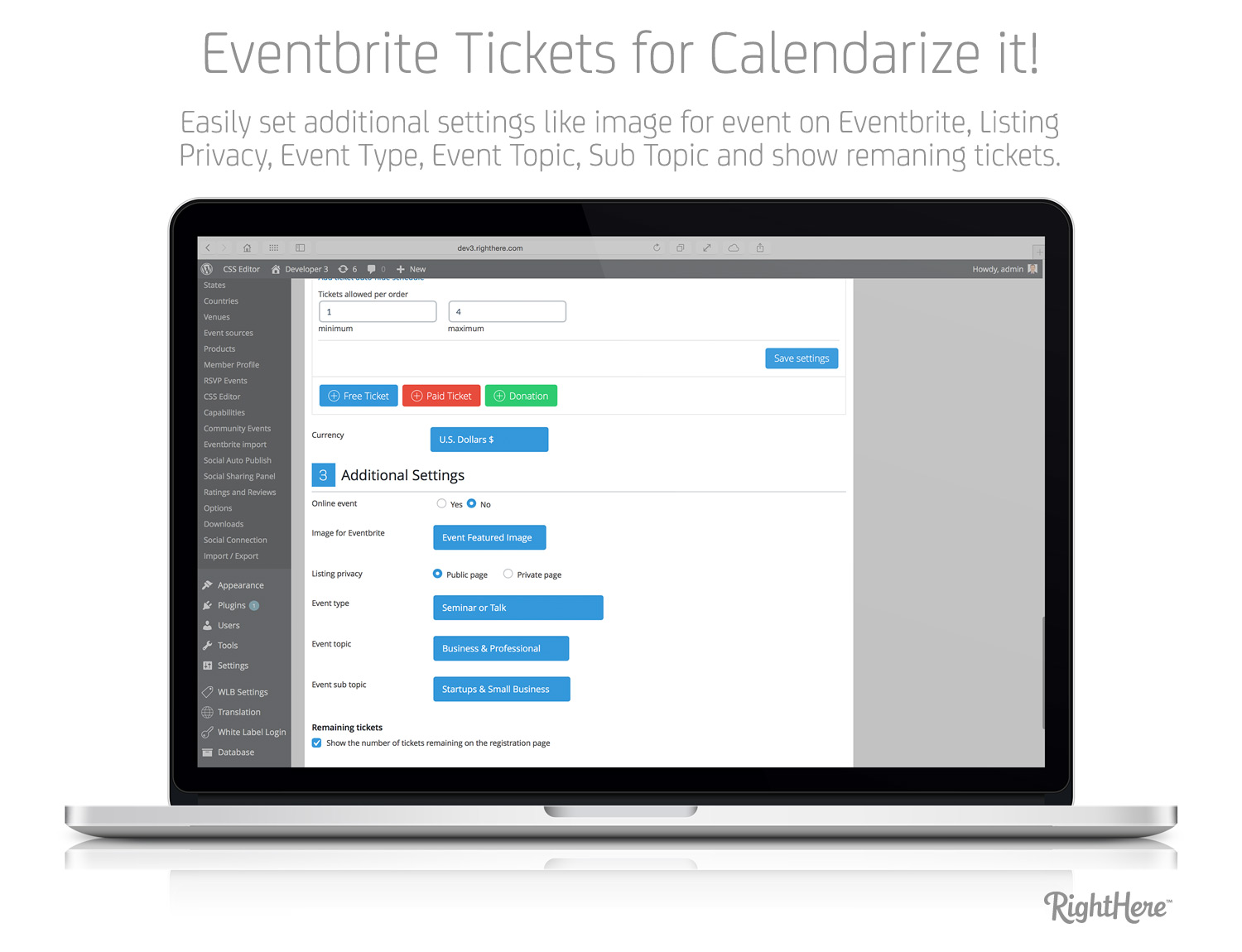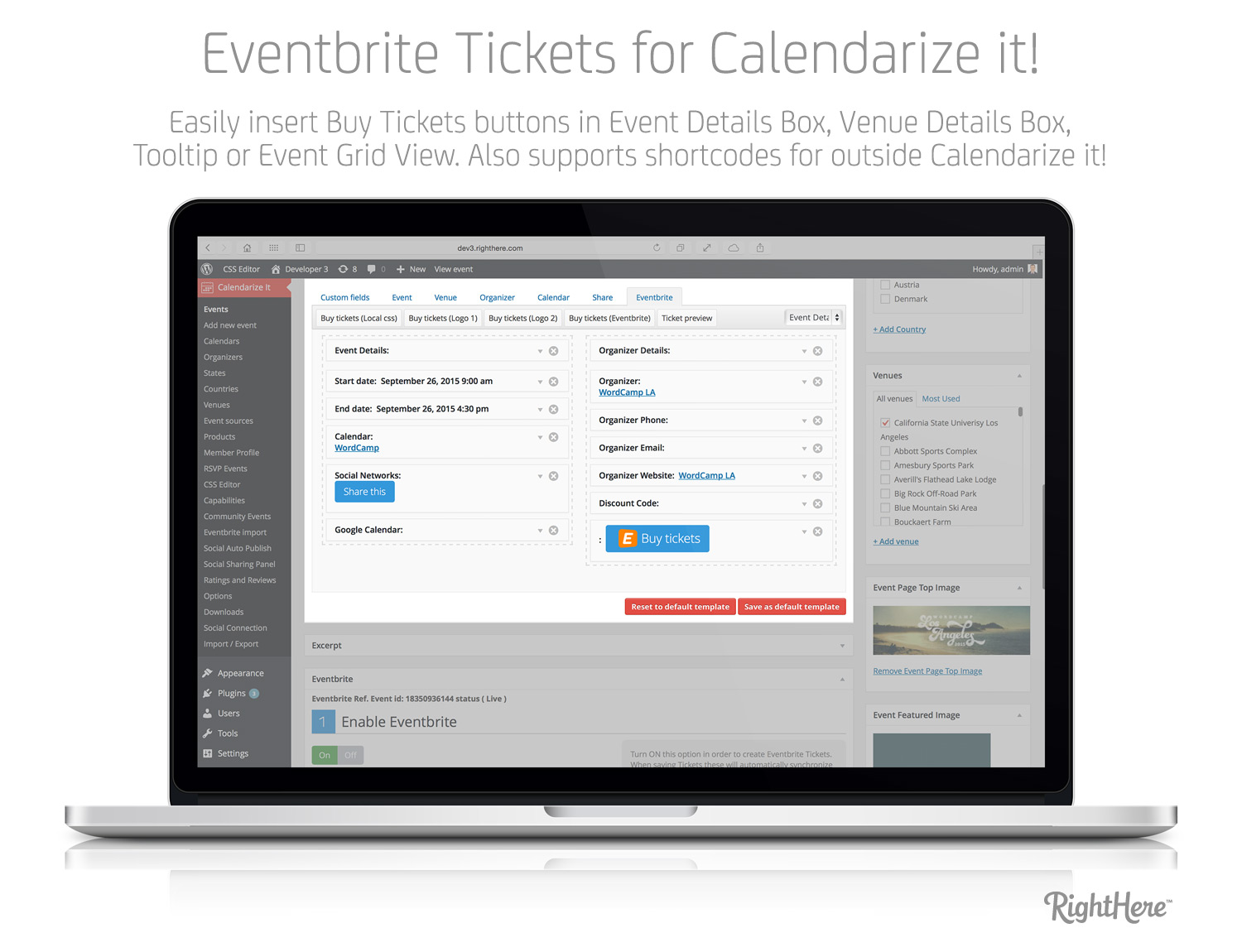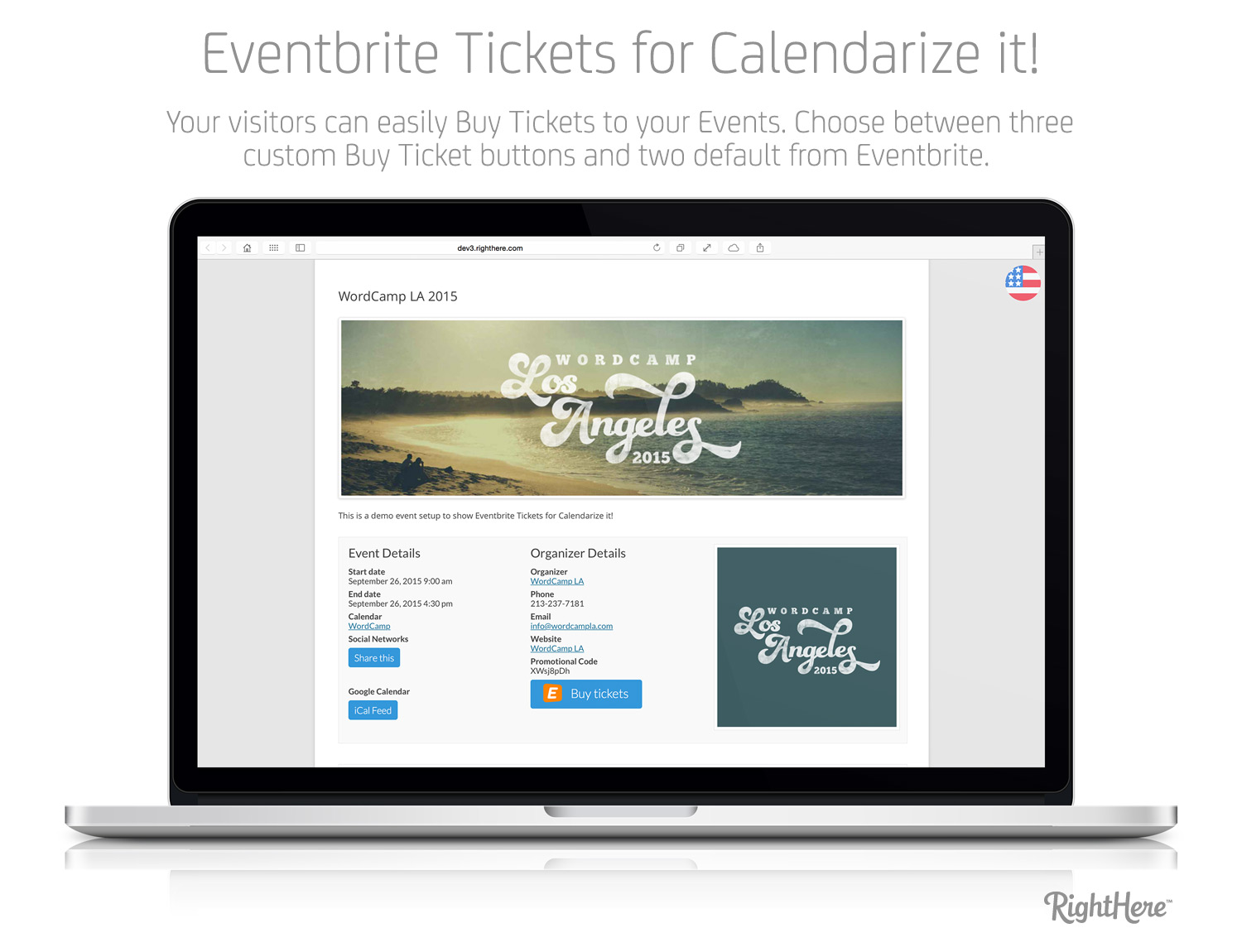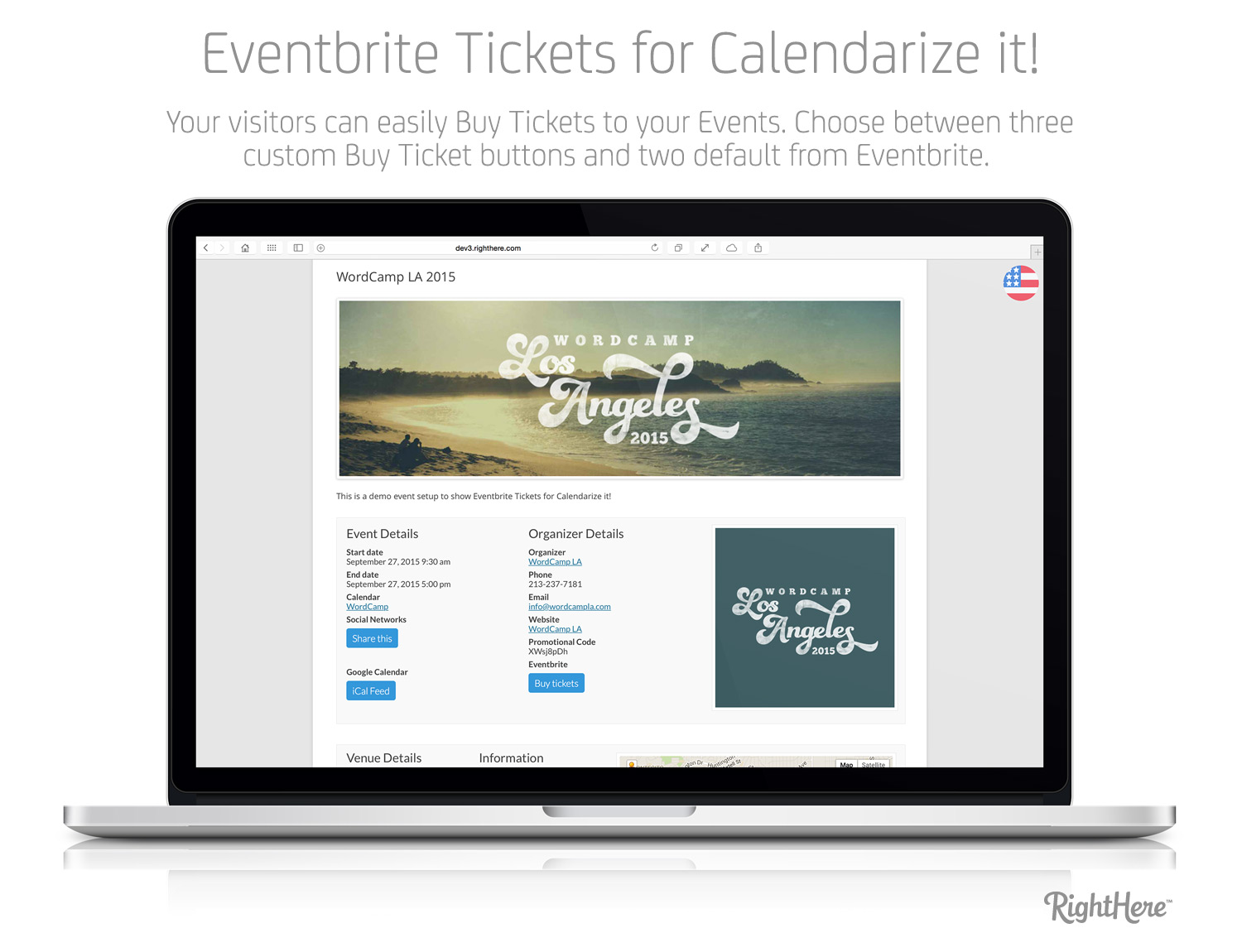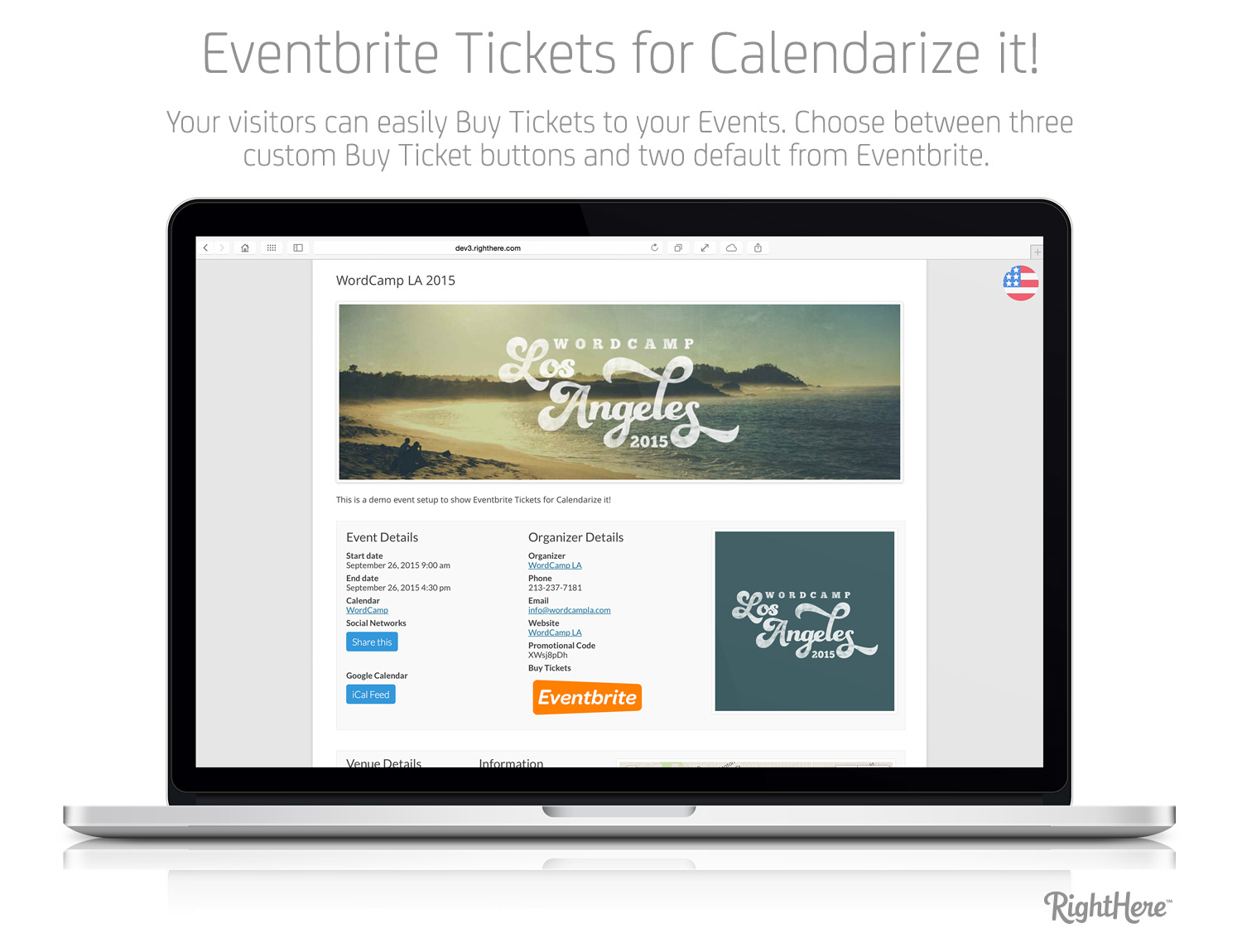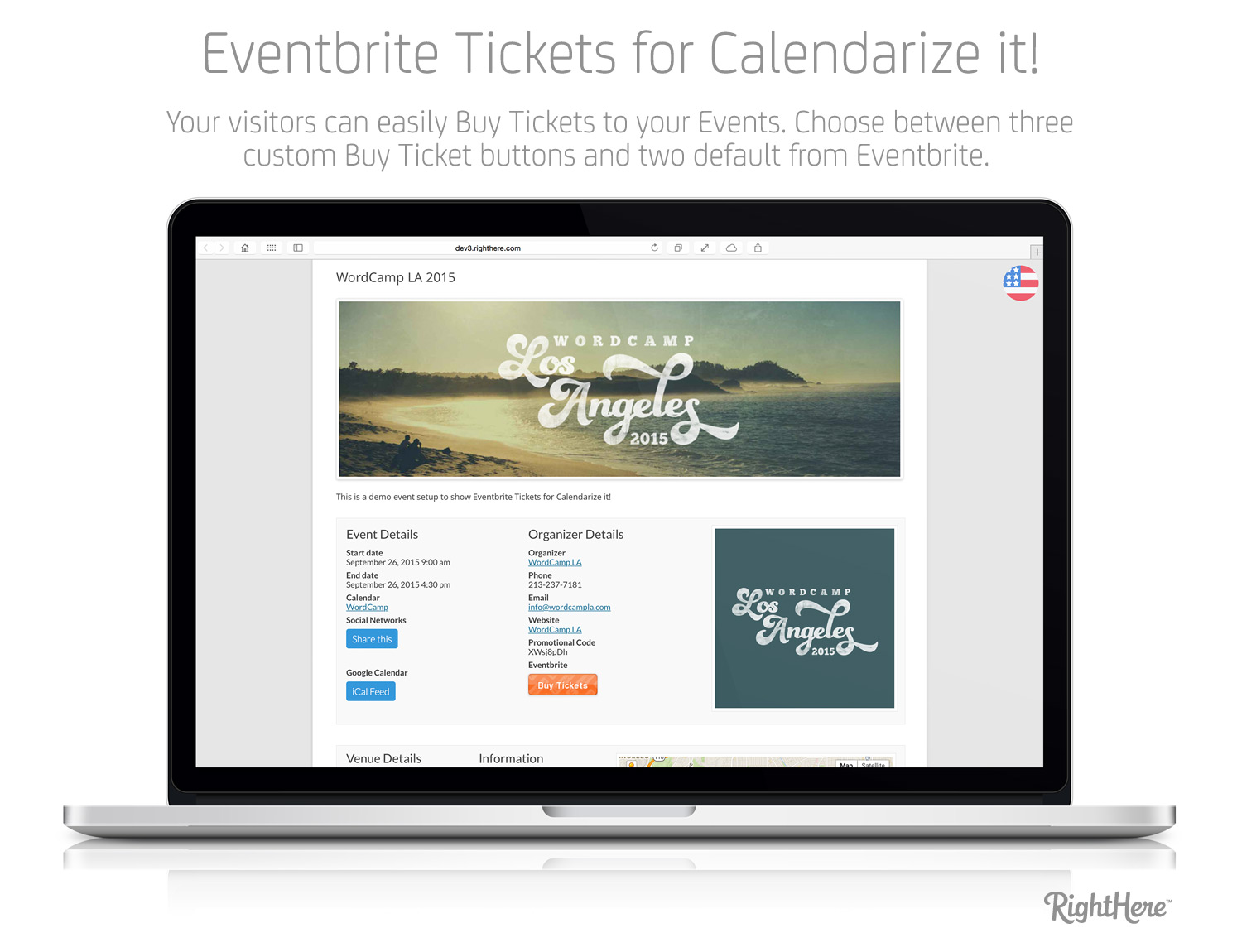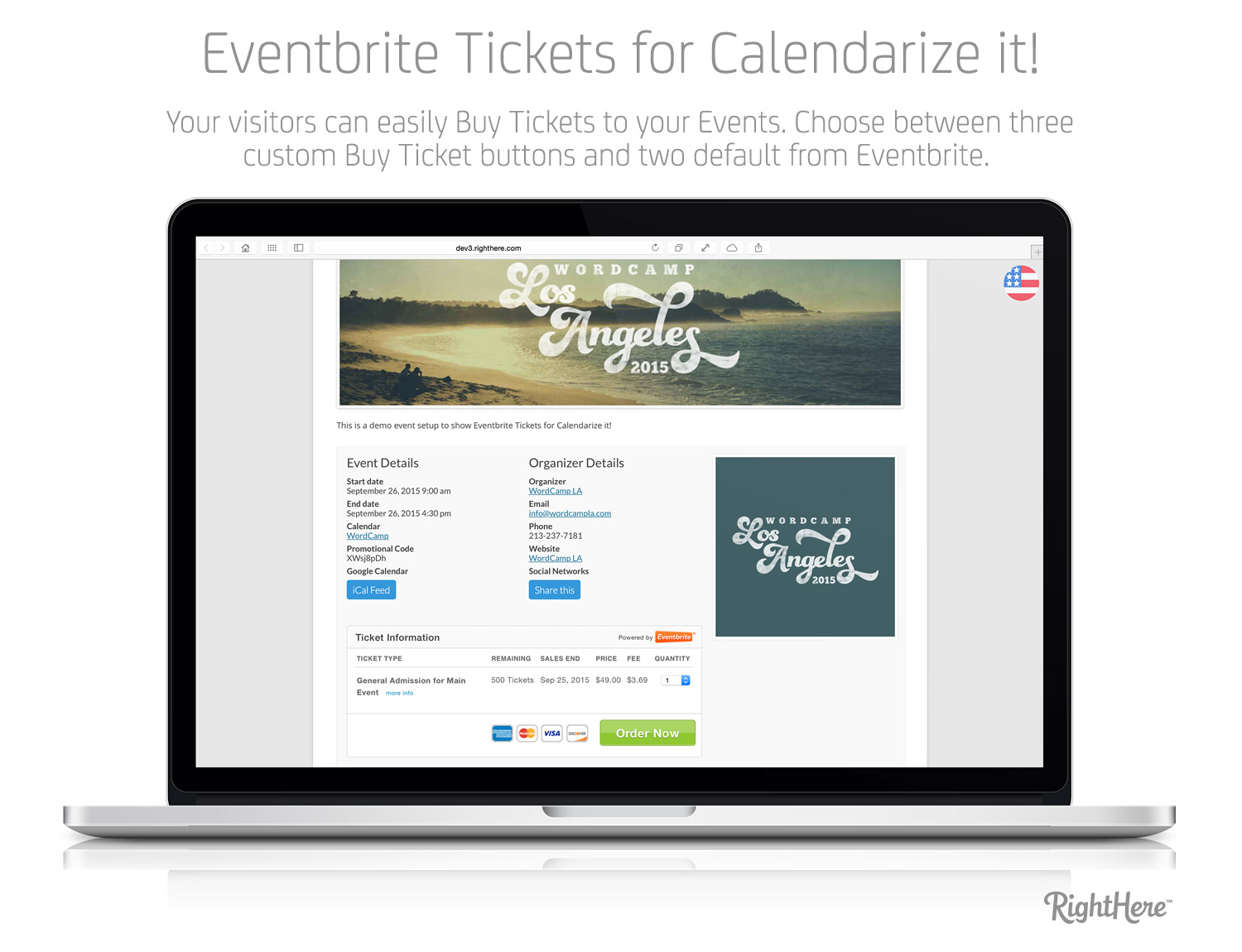 How to download free add-ons and purchase premium add-ons?
Enter your License Key in the Options Panel of Calendarize it! and get access to the Downloads section where you can download free add-ons and purchase premium add-ons.
The Item Purchase Code can be found in your License Certificate file. Go to Codecanyon and click on My Account at the top, then click the Downloads tab, and then click the Download button and choose the License Certificate & Purchase Code link. You will find the code in the text file and it will look something like this:
Item Purchase Code: bek72585-d6a6-4724-c8c4-9d32f85734g3
When you have entered your license key click on Downloads in the menu and you will now be able to download the free add-ons as well as purchase the premium add-ons.
Change log
Version 1.1.1.80186 – June 3, 2017
Bug Fixed: Timezone string was breaking the administrative interface. Converts GMT to timezone string if the field is left empty.
Version 1.0.8.69897 – May 9, 2016
Update: xdsoft DateTimePicker implemented via the new rhc DateTimePicker init framework (This will make it possible to easily update the DateTimePicker throughout all our plugins and add-ons, which uses the DateTimePicker)
Version 1.0.7.69316 – April 13, 2016
Update: Removed old API prepared for DateTimePicker
Version 1.0.6.66608 – January 19, 2016
Update: Disable scroll on Date Picker
Updated: Added new DateTimePicker
Bug Fixed: Issue with saving Date and Time format
Compatibility Fix: Change classes where the constructor has the same name as the class to __construct (PHP 7 compatibility).
Version 1.0.5.66496 – January 14, 2016
Update: Added a hide el_properties attribute
Version 1.0.4.66162 – December 31, 2015
Bug Fixed: Fixed styling on Eventbrite Metabox styliging in wp-admin
Version 1.0.3.64517 – October 30, 2015
Bug Fixed: When Eventbrite Organizer name is empty import tool crashes
Version 1.0.2.64481 – October 26, 2015
Bug Fixed: Updated all Eventbrite links to https
Version 1.0.1.64475 – October 20, 2015
Bug Fixed: The default Event Details Box is not set when importing an event
Bug Fixed: When user loads the event create screen before adding the oauth token, some lists remains empty until the next day. Changed the label of oauth token to Personal OAuth Token
Bug Fixed: Listed values are inverted
Bug Fixed: If the imported Venue and Organizer already exists link to Eventbrite Organizer and Venue and update locally.
Bug Fixed: Do not show Organizer or Venue error messages if sync is not turned ON
Update: When syncing Venue, send the iso3166_country_code taxonomy meta instead of plain country name
Update: Added a label to Venue and Organizer edit screen for the Eventbrite section
Update: CSS responsive for Eventbrite interface in wp-admin
Version 1.0.0.62554 – September 9, 2015