Custom Taxonomy Labels for Calendarize it!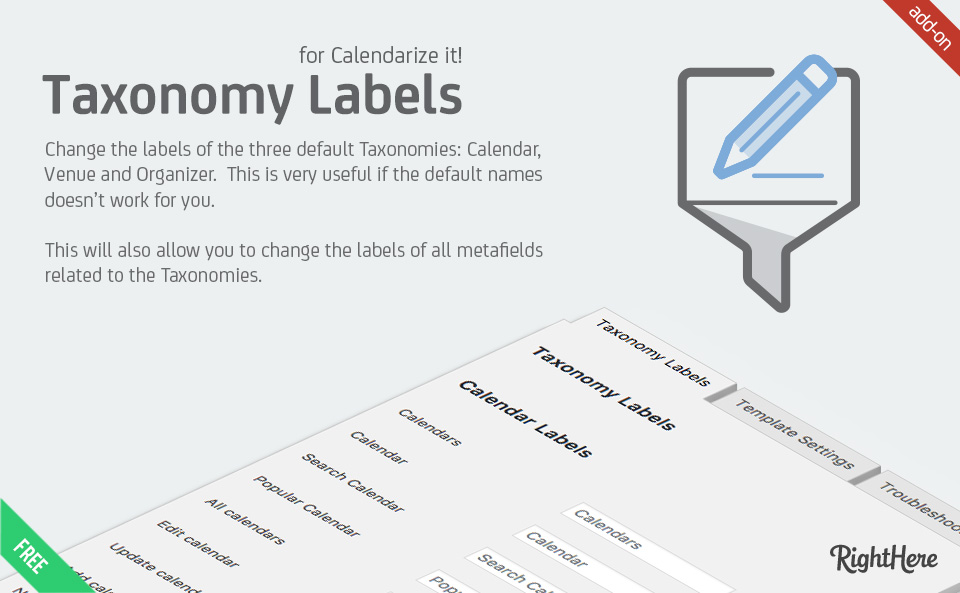 Custom Taxonomy Labels is a free add-on for Calendarize it! which makes it possible to change the labels of the three default Taxonomies: Calendar, Venue and Organizer.  This is very useful if the default names doesn't work for you. Please notice that this only changes visible labels of the taxonomies (the internal names in the plugin remain the same).
If you want to create your own Custom Taxonomies you will need the premium paid add-on Capabilities and Taxonomies.
How to download free add-ons and purchase premium add-ons?
Enter your License Key in the Options Panel of Calendarize it! and get access to the Downloads section where you can download free add-ons and purchase premium add-ons.
The Item Purchase Code can be found in your License Certificate file. Go to Codecanyon and click on My Account at the top, then click the Downloads tab, and then click the Download button and choose the License Certificate & Purchase Code link. You will find the code in the text file and it will look something like this:
Item Purchase Code: bek72585-d6a6-4724-c8c4-9d32f85734g3
When you have entered your license key click on Downloads in the menu and you will now be able to download the free add-ons as well as purchase the premium add-ons.
Change log
Version 1.0.1.68471 – March 3, 2016
Compatibility Fix: Change classes where the constructor has the same name as the class to __construct (PHP 7 compatibility).
Version 1.0.0.57984 – April 17, 2015