Social Sharing Panel for Calendarize it!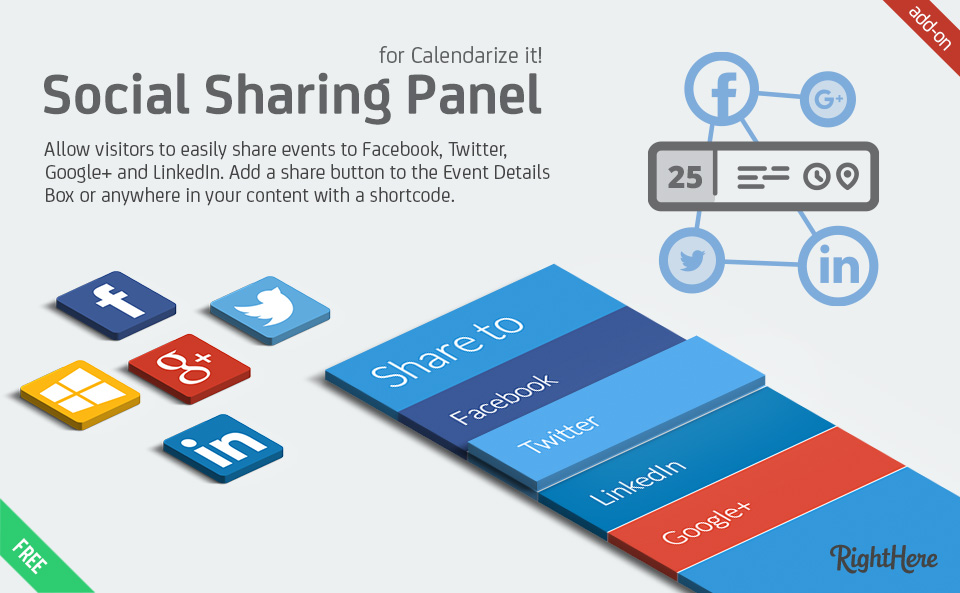 Social Sharing Panel add-on for Calendarize it! allow your visitors to easily share events to Facebook, Twitter, Google+ and LinkedIn.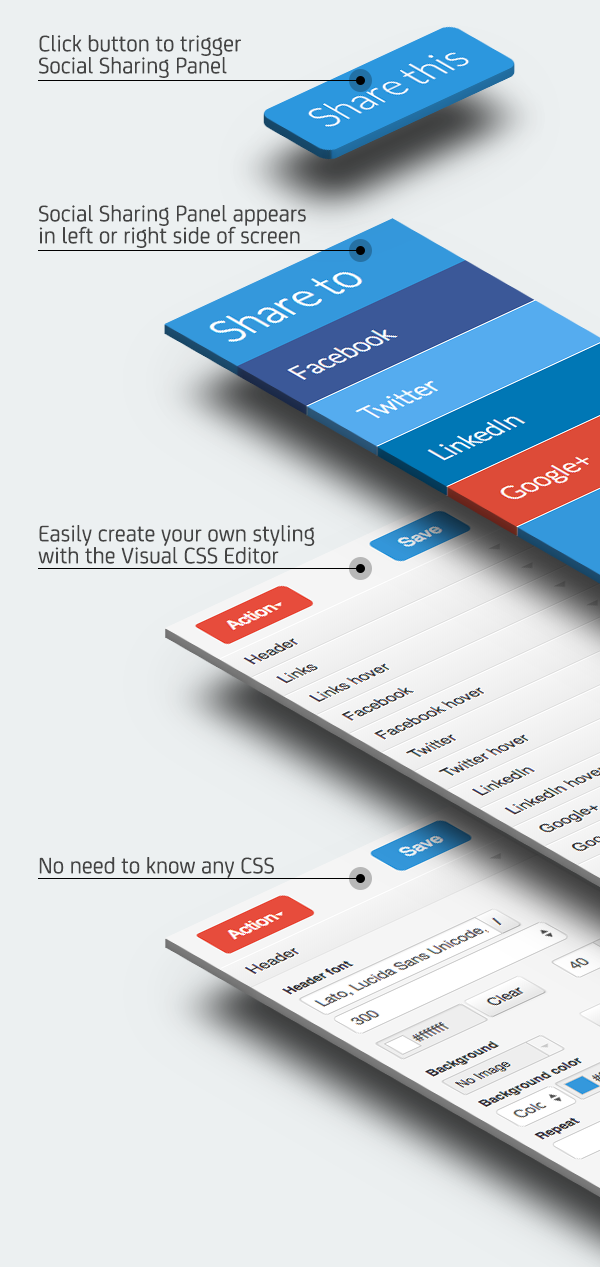 How to download free add-ons and purchase premium add-ons?
Enter your License Key in the Options Panel of Calendarize it! and get access to the Downloads section where you can download free add-ons and purchase premium add-ons.
The Item Purchase Code can be found in your License Certificate file. Go to Codecanyon and click on My Account at the top, then click the Downloads tab, and then click the Download button and choose the License Certificate & Purchase Code link. You will find the code in the text file and it will look something like this:
Item Purchase Code: bek72585-d6a6-4724-c8c4-9d32f85734g3
When you have entered your license key click on Downloads in the menu and you will now be able to download the free add-ons as well as purchase the premium add-ons.
Easily share your Events by inserting the "Share" button
When you have purchased, downloaded and switched the button from "OFF to "ON" you can go to the Social Sharing Panel menu and enable the feature and configure the different settings. When you are on the Social Sharing Panel menu click on the Help tab in the upper right hand corner of your Dashboard and you will get access to a detailed guide.
Take a look at how the Social Sharing Panel in action (Click the link and scroll down to the Event Details Box and then click the "Share me" button). You can also just click on the "Share me" button below.
[social_sharing]
The Social Sharing Panel can easily be styled with the Visual CSS Editor in Calendarize it! This means you can change font and color of the different elements.
Change log
Version 1.0.6.69536 – April 19, 2016
Compatibility Fix: Updated CSS for Social Panels. Was interfering with Date and Time picker alignment in Community Events
Version 1.0.5.66648 – January 20, 2016
Bug Fixed: When Featured Image is empty on Post Type (Posts) or Calendarize it! images are not set on Post Type (Events)  Facebook dialog returns an error
Version 1.0.4.63905 – October 7, 2015
Bug Fixed: Facebook loaded without SSL
Bug Fixed: Opengraph always loaded
Version 1.0.3.63374 – September 17, 2015
Update: Updated Facebook API version 2.4
Bug Fixed: Javascript error, we are not implementing a status fallback
Bug Fixed: On Twitter only share the title and the URL
Bug Fixed: Recurring event dates are not correctly shared
Version 1.0.2.55200 – January 9, 2015
Bug Fixed: Mixed content http and https when adding SSL to website
Bug Fixed: Missing href parameter for Facebook share
Bug Fixed: Add initialization event in the right place
Version 1.0.1.53297 – August 8, 2014
Bug Fixed: Facebook Sharing not working
Bug Fixed: Avoid php warning that breaks ajax
Bug Fixed: Animation mixup when using share buttons that mix left and right animations
Update: Added "rhp" textdomain for internationalization (translation
Version 1.0.0.38498 – July 24, 2013