Ratings and Reviews for Calendarize it!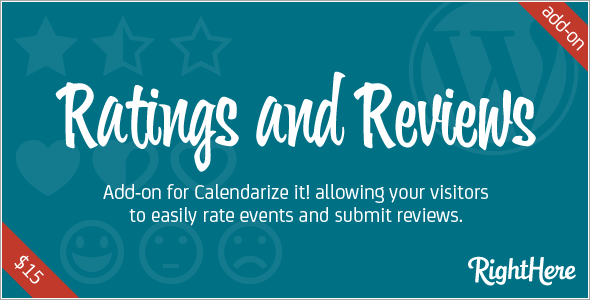 Ratings and Reviews add-on for Calendarize it! allow your visitors to easily rate and review events. And they can easily add the rating and review using Facebook Connect and Twitter Connect.
How to download free add-ons and purchase premium add-ons?
Enter your License Key in the Options Panel of Calendarize it! and get access to the Downloads section where you can download free add-ons and purchase premium add-ons.
The Item Purchase Code can be found in your License Certificate file. Go to Codecanyon and click on My Account at the top, then click the Downloads tab, and then click the Download button and choose the License Certificate & Purchase Code link. You will find the code in the text file and it will look something like this:
Item Purchase Code: bek72585-d6a6-4724-c8c4-9d32f85734g3
When you have entered your license key click on Downloads in the menu and you will now be able to download the free add-ons as well as purchase the premium add-ons.
Get your visitors to Rate and Review Events on your website
As soon as you download the Ratings and Reviews add-on and flip the switch from OFF to ON the add-on is activated, but the Ratings and Review Box will not show on the individual events before you flip the switch from OFF to ON in the Layout Options metabox in the individual event. This will enable the Ratings and Reviews Box on the individual event and your visitors can now submit their ratings and reviews.
When you have downloaded the Ratings and Reviews add-on remember to also download the English Help for Calendarize it! if you have already downloaded – you should re-download it in order to get the Help for the Ratings and Reviews add-on.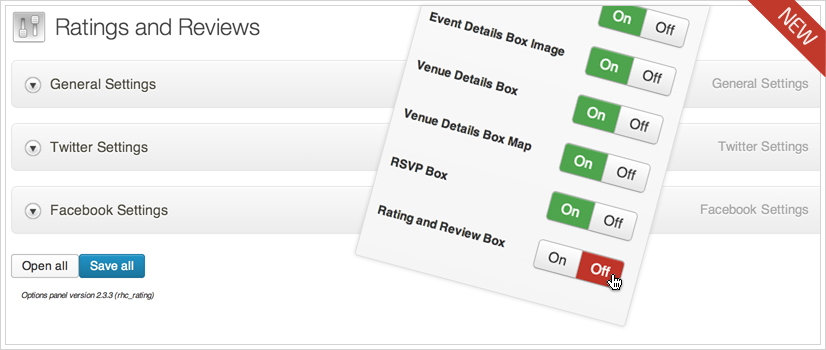 In the Options Panel you can quickly setup what you want to show in the Ratings and Reviews box. You can turn on the Ratings and Reviews box for all new events or you can overwrite the current settings and turn on the Ratings and Reviews box for all events in your system. You can also select the icon you want to use for your ratings. You can choose between Stars (3-10), Hearts (3-10) or Smilies (7 different). And you chose to show the ratings list or hide it and enable the Gravatar link.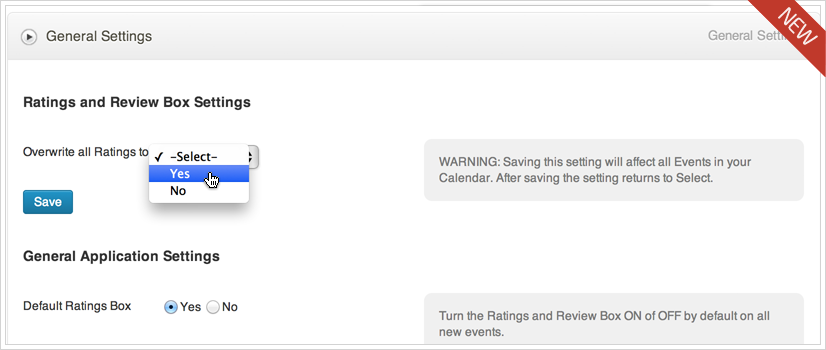 As your visitors submit Ratings and Reviews the statistics will reflect the numbers. If you have recurring events you will see the total rating for all events and you can select ratings and reviews for individual events by using the Filter Events dropdown.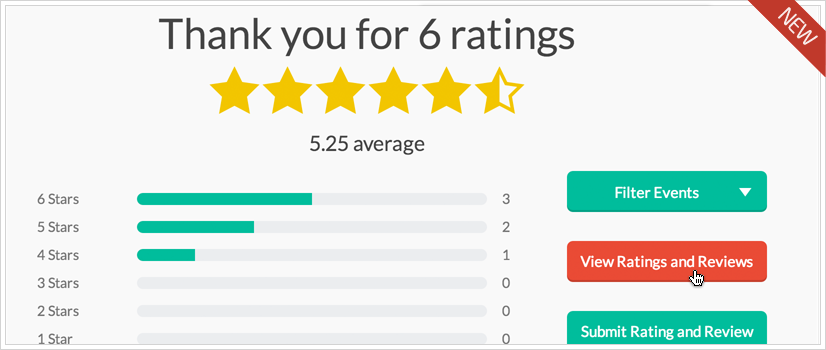 When visitors submit ratings and reviews they can either type in their personal information, review and rating manually and then click Submit Rating, or they can simply enter the review and rating and then use Twitter Connect or Facebook Connect.
If the feature is enabled the Rating and Review will automatically get published to Twitter or Facebook if social connect is used.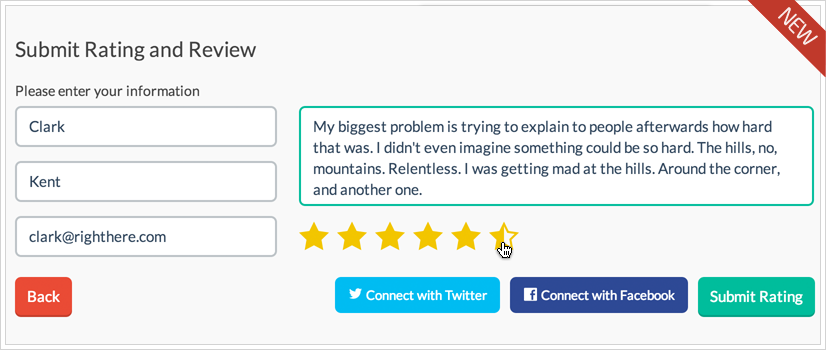 Click View Ratings and Reviews in order to view the individual submitted ratings and reviews for each event. The system automatically loads the last 10 ratings and reviews and in the bottom a bouncing arrow will appear. Tap it or click on it and additional ratings and reviews will load. Scrolling down the page will also trigger the load more feature.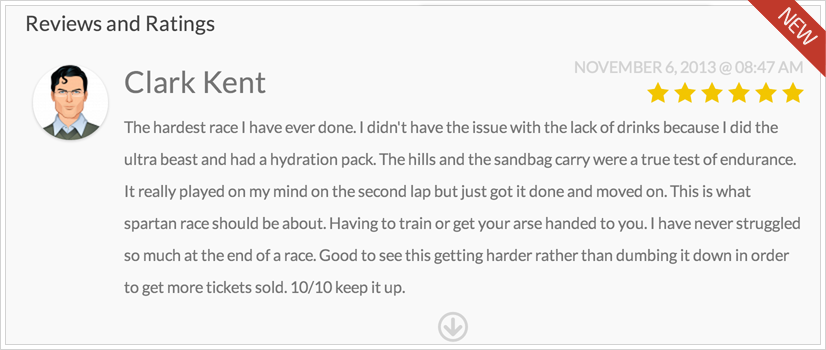 Changelog
Version 1.1.7.86961 – January 16, 2019
Bug Fixed: Missing uh_social_connection class (Caused the RSVP Events radio buttons to crash)
Version 1.1.6.82867 – February 15, 2018
Bug Fixed: Loading the uh_social_connection library
Version 1.1.2.80967 – August 2, 2017
New Feature: Added support for inserting the Ratings and Review box as a Visual Composer element.
New Feature: Added support for inserting the Ratings and Reviews box as a shortcode

[sws_shortcode width="100″ float="left" class="sws_blue"] [/sws_shortcode]
[sws_divider_small_padding]
Version 1.1.1.80533 – June 22, 2017
Update: Updated styling for Social Connection buttons (unified styling throughout all add-ons).
Version 1.1.0.73084 – August 19, 2016
Compatibility Fix: Change classes where the constructor has the same name as the class to __construct (PHP 7 compatibility).
Update: Deleted enqueue jQuery and added as dependencies
Update: Changed init function for Social init
New Feature: Added language folder and support for translation (included .po file for translation)
Version 1.0.9.54090 – September 23, 2014
Update: New unified Javascript for Social Connection, with the new Facebook 2.1 API.
Version 1.0.8.51691 – June 29, 2014
Update: Reduce the information from Google+ so that it doesn't need to use the public API access key.
Version 1.0.7.51026 – June 16, 2014
New Feature: Added Support for new Social Connection menu for entering API Keys for each Social Network. When a add-on uses Social Connection the API Keys are read from this location.
Version 1.0.6.49799 – May 21, 2014
Bug Fixed: CSS conflict with other themes or plugins using Twitter Bootstrap
Version 1.0.5.49305 – May 3, 2014
Bug Fixed: Issue with Social Connection (Facebook)
Version 1.0.4.47487 – February 24, 2014
Bug Fixed: Removed PHP warnings
Bug Fixed: Average was calculated wrong when selected Faces (was based on 6, but we then later added 7 icons). This has been fixed.
Version 1.0.3.47142 – February 10, 2014
Bug Fixed: Facebook Connect button didn't work properly on certain configurations
Bug Fixed: WordPress login button didn't work properly on certain configurations
Version 1.0.2.44131 – January 7, 2014
Bug Fixed: Removed PHP warning
Update: Updated text labels
Update: Changed color of rhc_rating WordPress button
Version 1.0.1.44048 – January 1, 2014
New Feature: Option to only show RSVP for logged in users
Update: Added missing text domains "rhc" for translation
Update: Changed Capability from manage_options (default WordPress) to rhc_options (Calendarize it! specific capability)
Version 1.0.0.41105 – October 13, 2013