Taxonomy by User Role for Calendarize it!

Taxonomy by User Role for Calendarize it! is an add-on, that allow you to configure the Taxonomies and Taxonomy Terms that are available to users. This is done by User Role, or by individual User.
By default Calendarize it! has three built in Taxonomies (filters), which are "Calendar", "Organizers" and "Venues". You can create additional custom Taxonomies with the Capabilities and Taxonomies add-on. Restriction of the Custom Taxonomies can also be configured with the Taxonomy by User Role add-on.
If you use our Community Events add-on, which allows your users to submit events from the frontend of your website, you might want to limit the available Terms in each Taxonomy, that the user can select from when submitting the event. If that is the case, then you really need this add-on.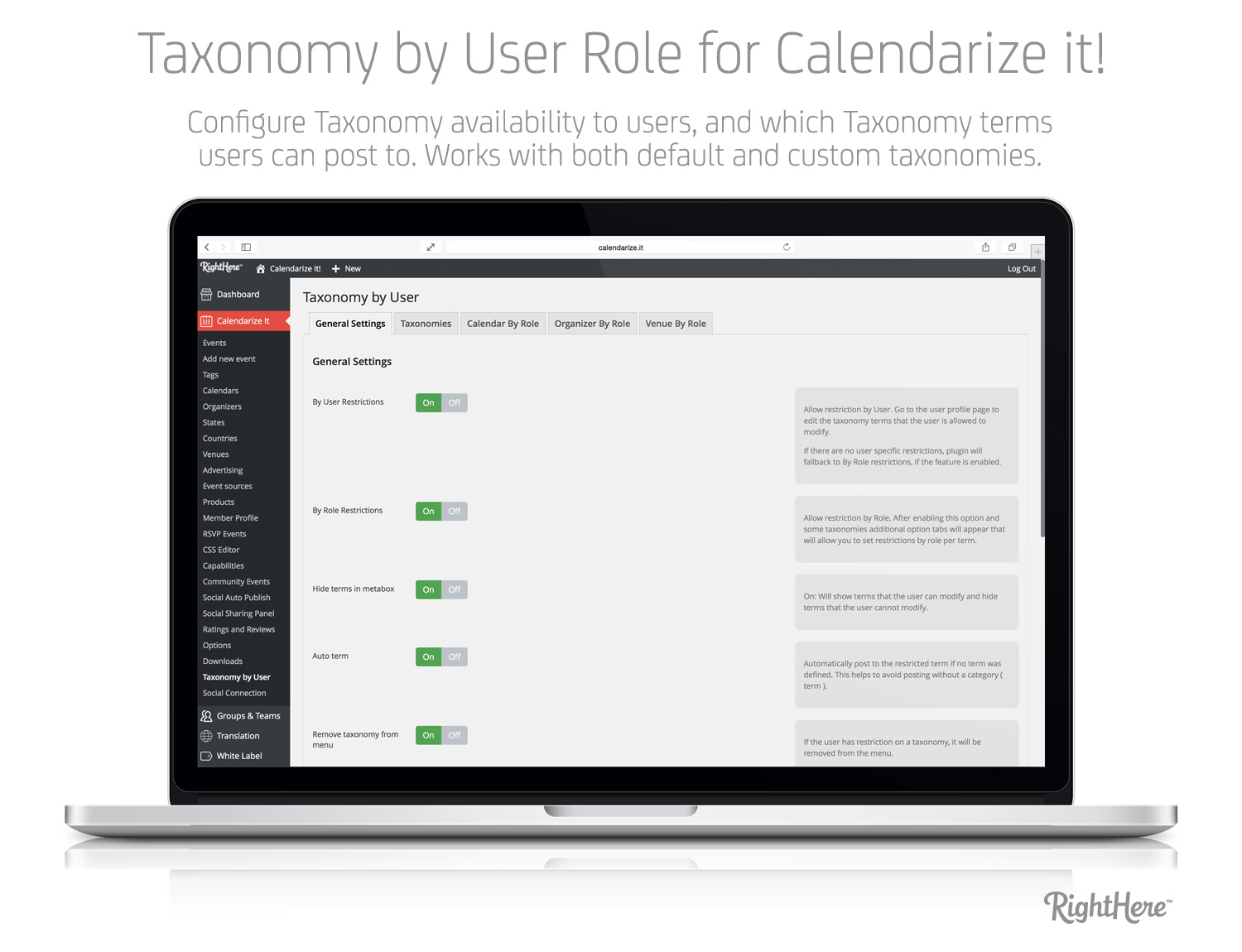 How to download free add-ons and purchase premium add-ons?
Enter your License Key in the Options Panel of Calendarize it! and get access to the Downloads section where you can download free add-ons and purchase premium add-ons.
The Item Purchase Code can be found in your License Certificate file. Go to Codecanyon and click on My Account at the top, then click the Downloads tab, and then click the Download button and choose the License Certificate & Purchase Code link. You will find the code in the text file and it will look something like this:
Item Purchase Code: bek72585-d6a6-4724-c8c4-9d32f85734g3
When you have entered your license key click on Downloads in the menu and you will be able to download the free add-ons as well as purchase the premium add-ons.
Changelog
Version 1.0.2.75299 – November 22, 2016
Version 1.0.1.55348 – January 15, 2015
Bug Fixed: Incorrect update notification
Update: Changed profile page label
Version 1.0.0.55150 – January 6, 2015