Social Auto Publish for Calendarize it!
Social Auto Publish add-on for Calendarize it! will allow you to automatically publish your Events to Facebook, Twitter and LinkedIn.
How to download free add-ons and purchase premium add-ons?
Enter your License Key in the Options Panel of Calendarize it! and get access to the Downloads section where you can download free add-ons and purchase premium add-ons.
The Item Purchase Code can be found in your License Certificate file. Go to Codecanyon and click on My Account at the top, then click the Downloads tab, and then click the Download button and choose the License Certificate & Purchase Code link. You will find the code in the text file and it will look something like this:
Item Purchase Code: bek72585-d6a6-4724-c8c4-9d32f85734g3
When you have entered your license key click on Downloads in the menu and you will now be able to download the free add-ons as well as purchase the premium add-ons.
Easily publish your Event to Social Networks as soon as you create it!
When you have purchased, downloaded and switched the button from "OFF to "ON" you can go to the Social Auto Publish menu and enable the feature and configure the different settings. You will need to create a Facebook App, Twitter App and LinkedIn App. Just follow the guide in the Help (upper right hand corner).
When you create a new Event you will see a new Metabox in the right side where you can turn "ON or "OFF" the automatic social publish feature to the different social networks. Please notice If you edit an event and the Social Auto Publish is turned ON the Event will be published to your social networks again.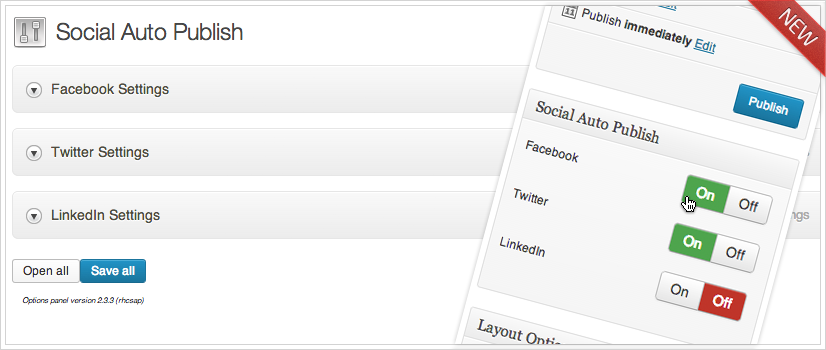 Changelog
Version 1.0.2 rev47584 – February 27, 2014
New Feature: Added support for publishing events to Groups
New Feature: Added support for publishing events to Pages
New Feature: Added support for setting default publish status
Version 1.0.1 rev44049 – January 6, 2014
New Feature: Added option for choosing timeline and group and group id
New Feature: Added a general setting for the default value when creating a new event
Update: Implement the default share option in the Metabox
Version 1.0.0 rev40370 – September 24, 2013