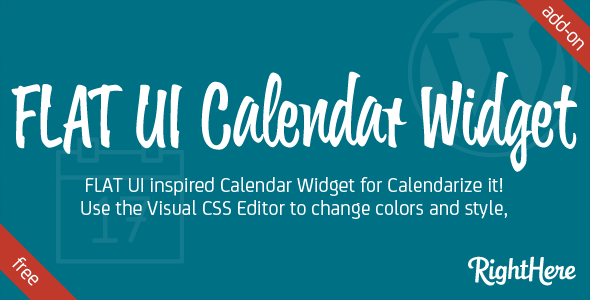 FLAT UI inspired Calendar Widget for Calendarize it! Use the Visual CSS Editor to change the style so it matches your website.
Enter your License Key in the Options Panel of Calendarize it! and get access to the Downloads section where you can download free add-ons and purchase premium add-ons.
The Item Purchase Code can be found in your License Certificate file. Go to Codecanyon and click on My Account at the top, then click the Downloads tab, and then click the Download button and choose the License Certificate link. You will find the code in the text file and it will look something like this:
Item Purchase Code: bek72585-d6a6-4724-c8c4-9d32f85734g3
When you have entered your license key click on Downloads in the menu and you will see the free add-ons and the premium paid add-ons.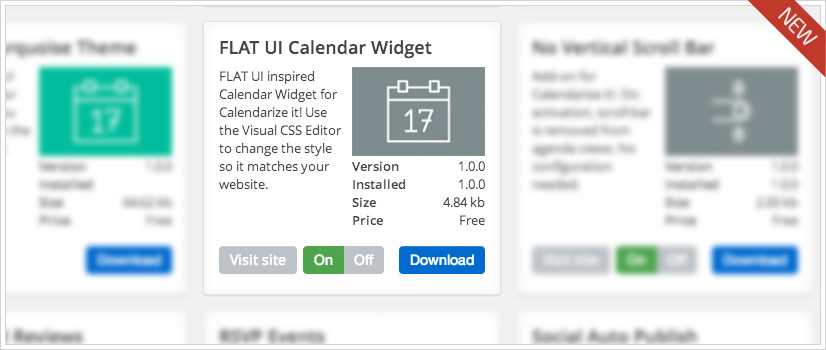 Download the free add-on Visual CSS Editor for Calendarize it! and then customize the colors and fonts of the FLAT UI Calendar Widget. It is really easy to customize so it fits perfectly into your websites color scheme. No knowledge of HTML or CSS is needed.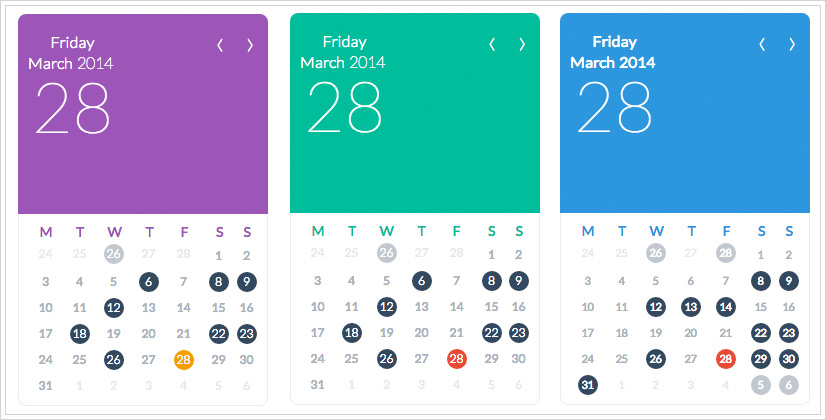 You can also easily insert the FLAT UI Calendar Widget directly into your content. You can use the following shortcode with multiple arguments. Please notice the two sample calendars below are showing different events. And the right calendar doesn't show weekends.
[calendarize class='for-widget flat-ui-cal' icalendar='0' weekends='1' venue='' organizer='' calendar='' widget_link='' widget_link_view='month' widget_dayclick='calendar_widget_day_click' header_left='prev,next' header_center='' header_right='title' defaultview='month' ignoreposted=1 for_widget=1 %s]