Importer for Calendarize it!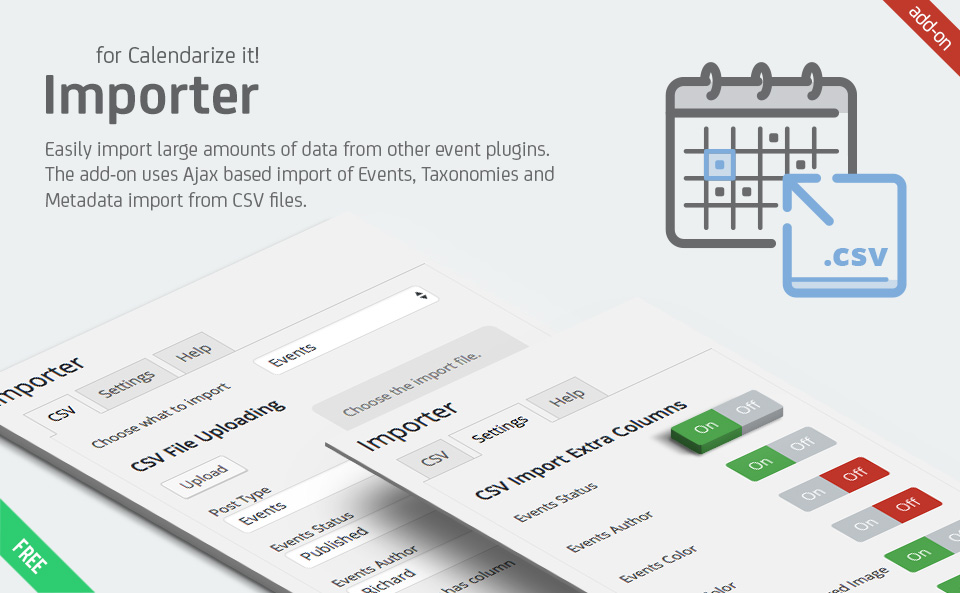 The Importer for Calendarize it! add-on will allow you to easily import large amounts of data from other event plugins. The add-on uses Ajax based import of Events, Taxonomies and Metadata import from CSV files.
The following Events Fields are supported:
Event Title
Event Excerpt
Event Content
Start Date
End Date
Start Time
End Time
Calendars (Taxonomy)
Organizers (Taxonomy)
Venues (Taxonomy)
States (Custom Taxonomy)
Countries (Custom Taxonomy)
Event Color (Month View bar color)
Event Text Color (Month View text color)
Post Status
WordPress Featured Image
Event Page Top Image
Event Details Box Image
Event Featured Image
Month View Image
The following Taxonomy Terms Data fields are supported
Venues
Venue Image
Venue Nofollow
Venue Website Label
Venue Website
Venue Email
Venue Phone
Venue Text info for Window (Map View)
Venue Zoom
Venue Country
Venue iso3166 Country Code
Venue Longitude
Venue Latitude
Venue Google Address
Venue Postal Code
Venue State
Venue City
Venue Address
Venue Description
Venue HTML Description
Venue Slug
Venue Name
Calendars
Calendar Name
Calendar Slug
Calendar Description
Organizers
Organizer Name
Organizer Slug
Organizer Description
Organizer HTML Description
Organizer Phone
Organizer Email
Organizer Website
Organizer Website Label
Organizer Nofollow
Organizer Image
In our Help Center knowledge base we have created a post explaining how you use CSV files with Importer for Calendarize it!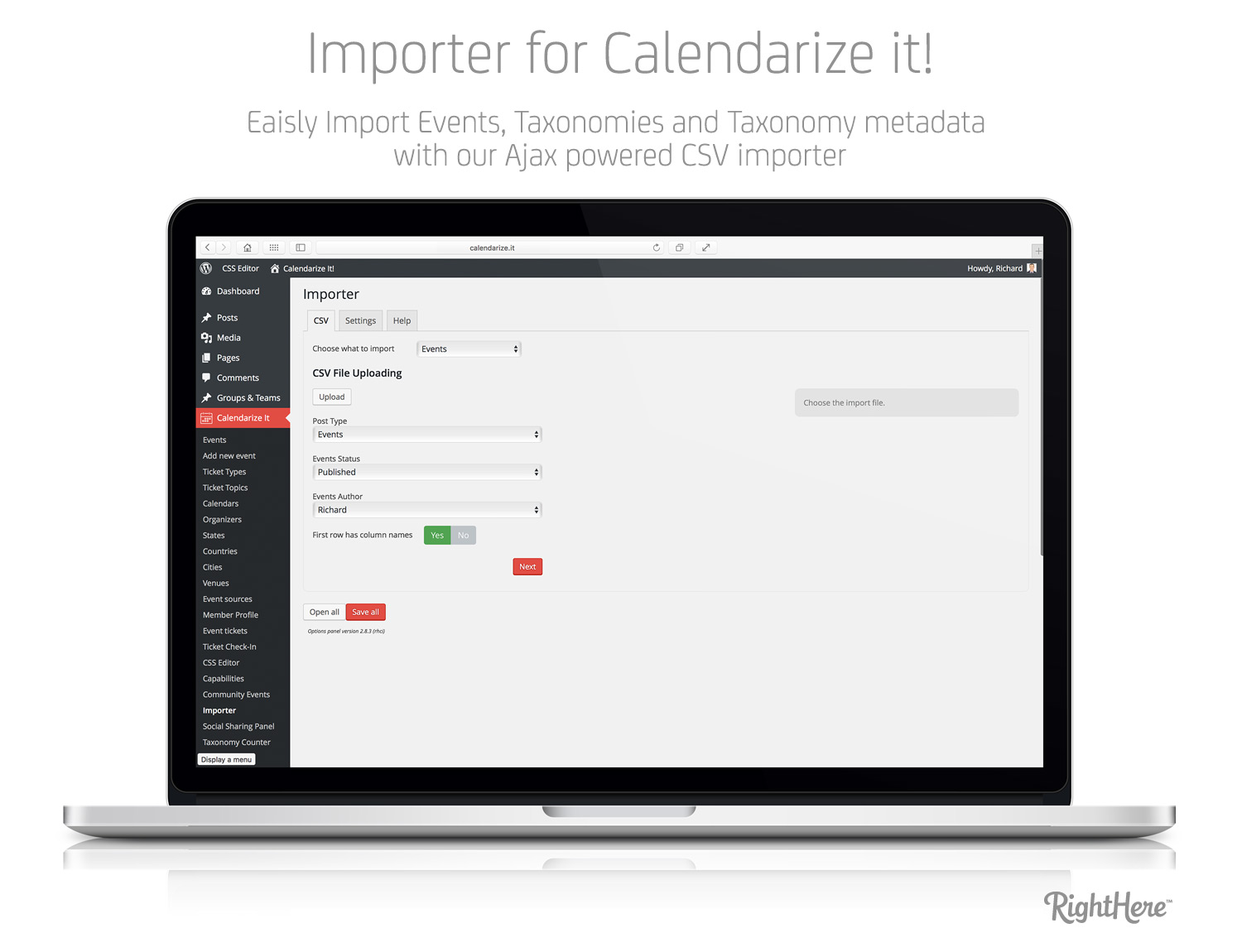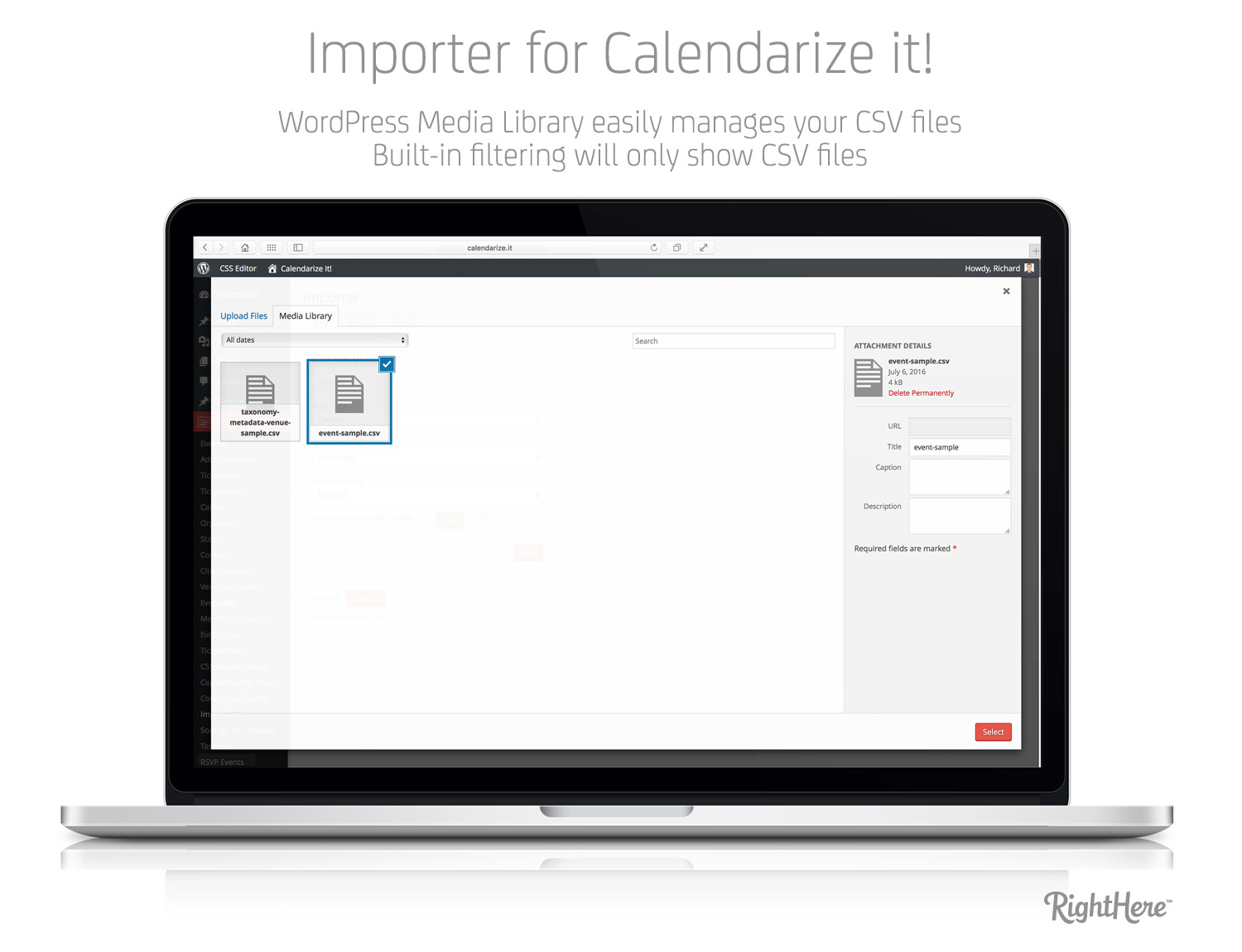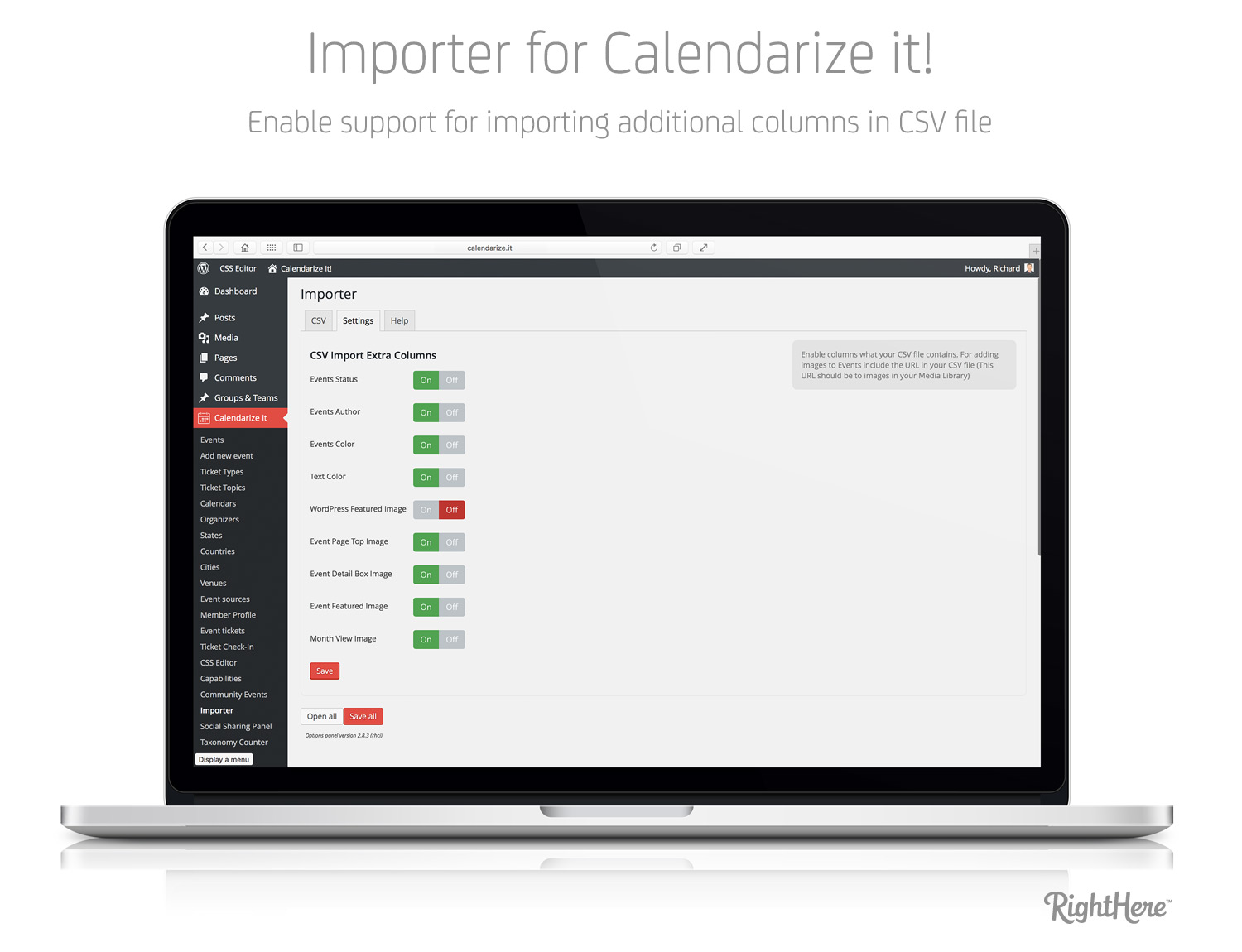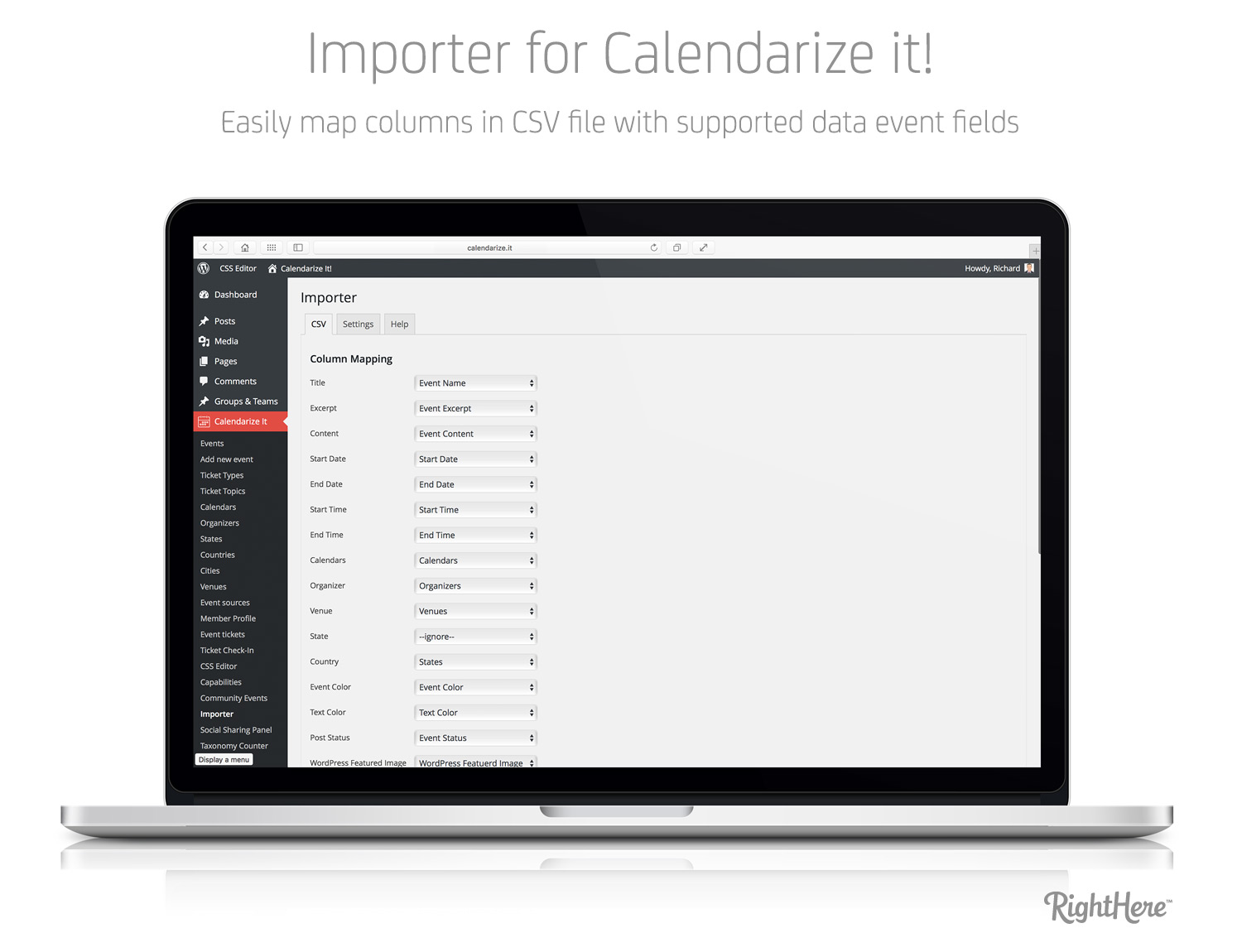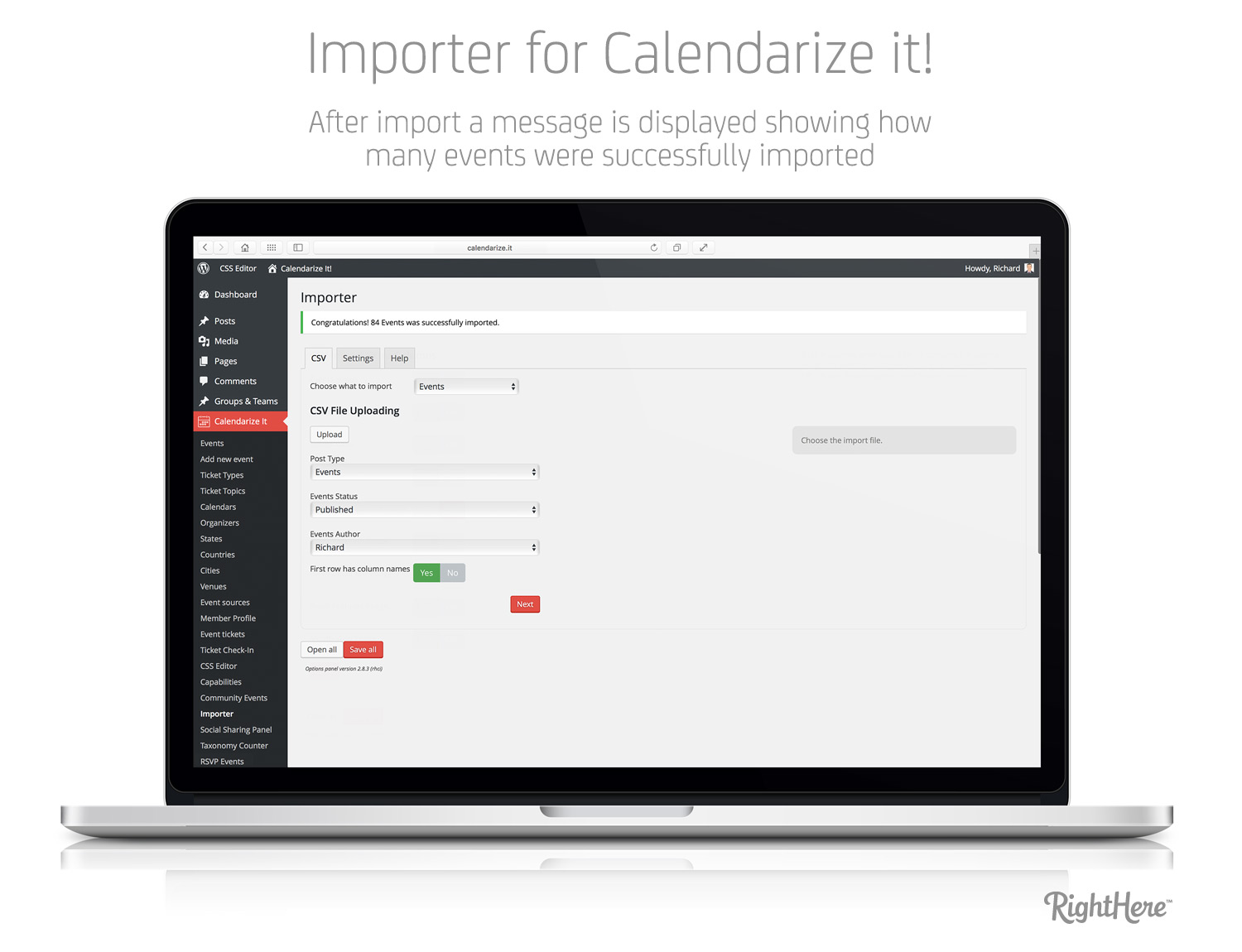 How to download free add-ons and purchase premium add-ons?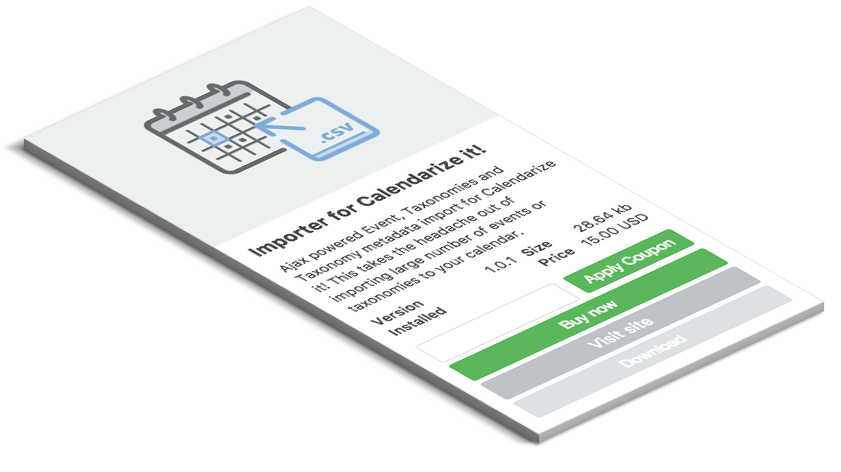 Enter your License Key in the Options Panel of Calendarize it! and get access to the Downloads section where you can download free add-ons and purchase premium add-ons.
The Item Purchase Code can be found in your License Certificate file. Go to Codecanyon and click on My Account at the top, then click the Downloads tab, and then click the Download button and choose the License Certificate & Purchase Code link. You will find the code in the text file and it will look something like this:
Item Purchase Code: bek72585-d6a6-4724-c8c4-9d32f85734g3
When you have entered your license key click on Downloads in the menu and you will now be able to download the free add-ons as well as purchase the premium add-ons.
Change log
Version 1.0.1.73994 – October 4, 2016
Bug Fixed: PHP warnings and a bug with importing terms data
Version 1.0.0.70851 – July 6, 2016